How Will Tax Overhaul Affect West Virginia Counties?
As state legislators consider an overhaul of the state's tax system, some of the most concerned onlookers are local and county officials. This week some of them spoke publicly about being able to maintain services and funding for schools while facing a cut in revenue, especially when many are already having to make do with less as coal severance taxes decline. For more, here's an editorial from this week's Clarksburg Exponent Telegram and a story from West Virginia Public News Service.
One county commissioner stated that businesses seeking to create jobs in West Virginia want good schools, roads and infrastructure, and investing in these areas would be a wiser choice than more tax cuts.
And, as we've stated before, cutting business taxes in West Virginia has not created jobs:

How Family Income Affects Children's College Chances
How does parent income affect a child's chance of attending college? Check out this easy-to-use online tool to draw a graph with your prediction to see how closely you come to the correct answer.
Help Fight Poverty in WV
What issues/policies need changed in West Virginia that impact working families/children? The Our Children, Our Future Campaign is currently accepting policy proposals for its annual Policy Workshops and Symposium.
This is your chance to work on that issue you think needs attention. This year being placed on the OCOF ballot of issues requires a submitted application and participation in at least one workshop and the symposium.
Not sure about whether you want to submit a proposal but would love to work on a team? Attend the Policy Workshops to learn about the submitted policies and join a team! Policy Workshop registration information coming soon!
Join the Student Power Team
The Our Children, Our Future Campaign is pleased to announce its new Student Power Team. The Student Power Team is a project to help get more high school and college age young people involved in their communities and government. It will provide students with an opportunity to learn a vast amount of skills from leadership development to how to move a community need into public policy.
The goal is to have over 30 student chapters by next year. If you are interested in learning more or becoming a chapter contact Chris Kimes.
If you want to be part of the Student Power Team that helps guide this project throughout the year, please contact Lida Shepherd.
Mark your calendars: the first Student Power Team meeting will be June 26, 2015 in Pineville, WV at the Wyoming County SADD Powerhouse.
Reverse the Curse
This week Ted traveled to Columbus, Ohio to take part in a legislative briefing as part of the Multi-Shale Research Collaborative. His presentation, titled "Reverse the Curse", explored how states like Ohio can create permanent natural resource trust funds to ensure long-term benefits of shale drilling.
Welcome, Brooke!
This week we welcomed Brooke Bailey as our summer research associate. Brooke is a graduate student at WVU where she is pursuing her Master's in Public Administration. This summer she will work on updating the WVCBP's Guide to the State's Budget, first published in 2008, and assist staff with several other projects. Welcome!
Budget Woes Hit Higher Education/Tax Committee Meets Again
For a great connecting of the dots on how years of tax cuts are now impacting West Virginia's college students, listen to Sean's interview this week on West Virginia Public Broadcasting.
What will the legislature do to help lessen the impact of higher tuition, and the state's reduced spending per student, especially on the state's low-income families? For a recap on discussion in the week's Tax Overhaul Committee meeting, check out Sean's blog post.
Are West Virginians Moving to Florida to Avoid State Income Taxes?
One topic brought up by legislators seeking to overhaul the state's tax system is eliminating the state's personal income tax. Legislators have stated that West Virginia is losing population to no-income-tax states like Florida. A look at the numbers shows this just isn't the case and should not be used as a reason to cut one of the state's largest source of revenue. Read more in Ted's blog post.
West Virginia Steals from the Poor and Gives to the Rich
West Virginia ranks among the highest in states with tax systems that undermine the federal tax code. The federal system is progressive since it taxes higher earners at a higher level, thus reducing income inequality. Unfortunately, West Virginia's regressive state system undoes this leveling of the playing field by nearly 32%.
Help Needed: Fighting Poverty in WV
Got an idea on how to fight poverty in West Virginia? Ready to get it passed through the state legislature with the help of the Our Children, Our Future Campaign? If so, it's time to: 1) organize a team to come together around an issue, 2) form a concrete policy proposal, and 3) present that proposal to lawmakers and stakeholders at our 2015 Our Children, Our Future Policy of the People Symposium. Learn more here.
Summer Employment Opportunity
Located in the heart of Charleston, Our Vote, Our Future is a 501(c)4 non-profit that is the grassroots outreach campaign for Our Children, Our Future, WV. OVOF is part of a broad campaign to end childhood poverty state-wide and fights alongside children and families to win huge, lasting victories. In less than three years, OCOF has increased the minimum wage in West Virginia and restored hundreds of thousands of dollars to childhood advocacy programs.
Our Vote, Our Future is seeking highly motivated individuals with:
-A passion to make change
-A real commitment to being part of the solution
-Strong communication skills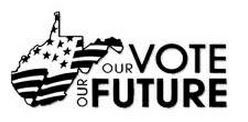 In the last post, I gave an overview of West Virginia's personal income tax and how it is an important and progressive way to fund state investments in K-12 education, higher education, and other important public structures. In this post, I want to tackle misleading information surrounding the argument to cut or abolish state personal income taxes – the great tax migration myth.
You often hear that people move to no-income-tax states like Florida to avoid paying West Virginia's personal income tax. While most of these arguments are anecdotal, if you look at interstate migration data and the academic studies for evidence of people "voting with their feet" to avoid paying state income taxes, the argument falls flat. In reality, people often move (or retire) to places like Florida because of the climate, lower housing costs (not the case in WV), better work opportunities or family reasons. 
Let's look first at the data on out-migration in West Virginia. Between 1993 and 2011, approximately 322,357 households moved into West Virginia and 328,992 moved out. This means 98 percent of those leaving West Virginia were replaced by new people arriving from other states, ranking West Virginia near the middle in net-migration among all states.
What about Florida? According to the Tax Foundation and IRS data,  approximately 22,009 people from Florida moved to West Virginia from 1993 to 2011 while 25,528  moved from West Virginia to Florida. This means for every 10 households that left West Virginia for Florida over this period, nearly nine (86.2%) were replaced by households moving into West Virginia from Florida. The fact that a substantial majority of people moving out of West Virginia to Florida were replaced by people moving in is a strong piece of evidence that Florida's lack of an income tax is not a major driver of migration between the two states.
While the Tax Foundation data give the impression that the net migration income from West Virginia to Florida over this period was -$314 million (the people who left West Virginia for Florida took $925 million with them, while the people who came to West Virginia from Florida brought $611 million with them, for a net loss of $314 million ) in "lost income" to West Virginia that's not entirely true. When most West Virginians move to Florida they don't actually take their income with them. Instead it usually stays with their employers in West Virginia and is earned by other residents already in the state or by those who move in. While some forms of income – investment income, for example – may move with the individual, this only represents a small share of total income "lost."
Even if you assume that all of the $314 million in income was lost in West Virginia, it would be a tiny fraction of total personal income taxes collected in the state over this period. For example, from 1993 to 2010 West Virginia collected about $21 billion in personal income taxes. Assuming that this income would be taxed at an effective rate of 6 percent (which is highly unlikely, see here), that means West Virginia lost about $19 million in income taxes or just 0.09% of the personal income taxes collected over this period.
Another hole in the tax migration myth is that over 70,000 more households moved from no-income-tax Florida to Georgia (which has an income tax) than moved the other way between 1993 and 2010. Also, a review of recent peer-reviewed academic studies and other reports by Michael Mazerov at the Center on Budget and Policy Priorities finds the state and local taxes are not a big factor in interstate migration decisions. Of the 15 studies reviewed by Mazerov, only 3 of them (only 1 that was peer reviewed) found that high income taxes spur out-migration.
In the end, the argument that West Virginia is losing population to Florida or other no-income-tax states because they lack an income tax doesn't hold up to the evidence and is no reason to make major cuts to the state's personal income tax. Without the important revenue from the personal income tax to provide and maintain high-quality education, public safety, higher education and other vital services, highly skilled people (and the companies that employ them) could choose to leave West Virginia  in search for a better quality of life, endangering the state's long-term economic growth. 
Monday, the  Joint Select Committee on Tax Reform met again to continue the discussion of the proposed overhaul of West Virginia's tax system. The committee heard from economists from WVU and Marshall University, as well as representatives from the conservative Tax Foundation, the Council on State Taxation, and the National Conference of State Legislatures. The experts gave the committee a broad range of general advice, though sometimes contradictory, while only giving a few specific tax reform ideas.
Dr. John Deskins, director of the Bureau of Business and Economic Research at WVU, advised the committee that the state's tax system should be simple, efficient, and fair, but noted that it was up to elected officials to decide what  fair means. While Deskins said that a consumption (sales) tax may be preferable to an income tax, since a consumption tax does not tax savings, he cautioned that completely eliminating the state's income tax and replacing it with a sales tax would be too drastic.
Dr. Jennifer Shand, director of the Center for Business and Economics Research at Marshall University, noted that West Virginia has a pretty good tax system with rates that rank favorably against our neighbors. Both Deskins and Shand emphasized that tax policy is just one aspect of economic growth, and that tax reform wouldn't likely be a silver bullet for the economy. Shand pointed to the Forbes Best States for Business Index, noting that while West Virginia ranks poorly overall, the state ranks well for business costs, including taxes, which we've previously discussed here. 
Both Joseph Henchman from the Tax Foundation and Mandy Rafool from the National Conference of State Legislatures talked about tax reform efforts in other states. Henchman's presentation focused on how state tax reforms affected the state's rankings on the Tax Foundation's State Business Tax Climate Index. Unfortunately for the Select Committee, the Tax Foundation's indexes don't tell us anything about how those reforms affected those states' economies, and both the State Business Climate Index and the Location Matters Index both completely fail to predict job, or any other economic, growth. Those, and other indexes like them, are simply arbitrary mish-mashes of data which are guided more by politics and ideology than by evidence.
Some of the advice given by the presenters was contradictory. While all of the presentations noted concern over the centralized nature of West Virginia's tax system, with the most business taxes being levied by the state rather than local governments, recommendations from COST and the Tax Foundation included eliminating two significant sources of revenue for local governments – the B&O tax and the business personal property tax.
And while both COST and the Tax Foundation called for the elimination of the business personal property tax, doing so would narrow the property tax base, necessitating higher rates, and make our system less equitable while eliminating a stable source of revenue. And while it is taken as an article of faith by some, there is little evidence that the personal property tax is hurting the state's economy, and none of the presenters to the committee offered any. And, in fact, no matter how you measure it, West Virginia's property tax burden ranks from near the bottom to fairly reasonable.
The same is true of the other concrete recommendation made by both COST and the Tax Foundation, for West Virginia to repeal its throwout rule in favor a single sales factor formula for its corporate net income tax. Moving to a single sales formula would allow multistate corporations to pay income taxes based only on their sales to consumers in West Virginia, rather than shares of its property and payroll, as well as sales, located in the state. Again, despite claims that West Virginia's formula is hurting the state economically, there's little evidence that single sales factor states perform better. Instead, states that move to a single sales factor lose substantial revenue.
And while each presenter acknowledged that education, infrastructure and other state investments are important to businesses and economic growth, missing from the meeting was how any of the proposed tax reforms would affect the state's ability to make those investments. As we're all familiar with the last time West Virginia followed advice from the likes of the Tax Foundation, tax cuts blew a $360 million hole in the budget, leading to multiple years of budget cuts, a disinvestment in higher education, rising tuition, and a crumbling infrastructure. 
While Other States Restoring Higher Education Funding, West Virginia Continues Cuts
The Great Recession was hard on state budgets with many legislators making the tough choice of cutting funding to higher education. With the recovery well underway, many states are restoring funding to their colleges and universities. This is not the case in West Virginia, which led the nation in 2015 by cutting per-student funding by 2.3 percent. Since 2008, West Virginia has cut higher education funding by over $2,000 per student. This has resulted in average tuition increasing by over 32 percent since 2008.
The hole in West Virginia's budget was not as much caused by the Recession, however, as by the reduction of business taxes and elimination of the food tax, without replacing that lost revenue, causing West Virginia's college students to pick up the tab.
Here's more in this week's Charleston Gazette and the State Journal.
Why Gutting the Personal Income Tax Doesn't Work
West Virginia policymakers need to look no further than Kansas and Maine if they want to know what happens when a state cuts its personal income tax. Such a large part of a state's budget is important to maintain our schools, roads, police protection and higher education.
At nearly half of the state budget, cutting or eliminating West Virginia's personal income tax would make it a challenge to maintain these vital services. For more, here is Ted's blog post, a first in a series about the importance of West Virginia's personal income tax.

Who Benefits from Tax Cuts?
Do income tax cuts create jobs? Not with small businesses. In fact, most tax payers are not in the position to create jobs, with or without a tax break. Read more here from the Center on Budget and Policy Priorities.
Last week, the newly created Joint Select Committee on Tax Reform held its second meeting to discuss overhauling the state's tax system. While the meeting included an overview of the state's current tax system and historical tax reform efforts of the past (e.g. Cecil Underwood's Commission on Fair Taxation), committee members made it quite clear in April that they want to explore abolishing the state's personal income tax, even though they now say "there's no hidden agenda" and/or proposals they have in mind for 2016.
It is important to remember that during the 2015 Legislative Session several members of the uber-conservative  "Liberty Caucus" introduced a bill to abolish the personal income tax. The movement to abolish or rollback the personal income tax is not something unique to West Virginia. In fact, it is part of a well-organized conservative effort across the country that is being spearheaded by wealthy groups such as ALEC, the Heritage Foundation, and economists Stephen Moore and Arthur Laffer. So far, five states – Kansas, Maine, North Carolina, Ohio, and Wisconsin – have made major cuts to their personal income taxes on the advice of these groups and many more states have considered doing the same. As I pointed out in a recent op-ed in the Charleston Daily Mail, gutting the personal income tax is a poor strategy that would likely lead to growing budget deficits instead of a growing economy.
This post is the first a five-part series that aims to explore the ramifications of cutting or rolling back our state's personal income tax. This will include a brief overview of the importance and structure of West Virginia's personal income tax, along with responding to many of the erroneous arguments being put forth to abolish the tax – including out-migration, economic growth, and small business development. The series will end with a number of policy alternatives that would modernize and strengthen our state's personal income tax so we can invest in West Virginia's economy.
Brief Overview of West Virginia's Personal Income Tax
West Virginia's personal income tax  was established in 1961 and applies to most types of money income, including wages and salaries, interest, rental income, capital gains, and some business and pension income. West Virginia is one of 43 states that has a personal income tax and like 29 other states, it links to the federal definition of adjusted gross income (AGI) to define its tax base. West Virginia, like many states, also has a number of deductions, exemptions, and credits that lower the income subject to the tax. According to the latest Tax Expenditure Report from the WV State Tax Department, the state lost an estimated $242 million in forgone revenue from these expenditures in 2014. 
Similar to 33 states, West Virginia also has a progressive or graduated rate structure, with the income tax rates growing with income (see table below). This means that unlike the sales tax that hits low-income families the hardest, higher income residents pay a larger of their income in personal income taxes compared to low- and middle-income residents. The personal income tax also reduces the overall regressive nature of West Virginia's state and local tax system. 
West Virginia's marginal personal income tax rates have changed dramatically through the years. Throughout the 1960s, the top marginal tax rate was 5.5 percent. From 1971 to 1982, the top rate grew to 9.6 percent, and from 1983 to 1986 it was 13 percent.
Since West Virginia's marginal tax rates and income brackets have remained unchanged since the 1987, this means a lot more people are climbing into the higher income tax brackets. For example, in 1987 only four percent of families in the state had income (not to be confused with taxable income) above $60,000, compared to almost 40 percent in 2014. 
While the state's top marginal rate is 6.5 percent (see table below), no one pays 6.5 percent of their taxable income in state income taxes. This is because they are only paying the higher rate on any income above each threshold, not on everything.
For example, suppose a family in West Virginia has $65,000 in taxable West Virginia income (this would be after any exemptions, deductions or credits) in 2014. They would pay three percent on the first $10,000, four percent on $15,000 ($25,000-$10,000), 4.5 percent on the next $15,000 ($40,000-$25,000), six percent on their next $20,000 ($60,000-$40,000), and 6.5 percent on the remaining $5,000. Note that even though this family is at the 6.5 percent tax bracket it does not owe 6.5 percent of its income but instead a maximum of 4.7 percent.
Now that we have a good understanding of how the state's personal income tax works, let's look at what it pays for in West Virginia.The personal income tax is West Virginia's second largest source of revenue outside of federal funds. It makes up 43 percent or $1.9 billion of the state's $4.3 billion General Revenue Fund budget that funds public education, public safety, higher education, health and human services and many other important programs and services.
About $95.4 million in personal income tax revenue pays for the Old Workers' Compensation Debt (which will be fully paid off by 2016) and a couple of years ago the legislature decided to dedicate $35 million of the $90 million to fund the liability in retiree health care (a.k.a. OPEB). The personal income tax is also a growing share of the budget, growing from 35 percent in 2002 to a projected 44 percent by 2020. 
As this post shows, the personal income tax is not only the largest source of revenue from state residents but it is also a progressive tax that helps reduce income inequality and pay for important budget priorities like education, higher education and health and human services. In the next post, we will explore whether the personal income tax leads people to flee West Virginia for states without a personal income tax. As we shall see, the idea that the personal income tax leads to out-migration of state residents and businesses is largely a myth.
Second Meeting Held to Look at Tax Overhaul
The history of West Virginia's previous efforts to overhaul its tax system and an overview of tax breaks going back over 100 years were on Monday's agenda of the Joint Select Committee of Tax Reform. Speakers included Revenue Secretary Bob Kiss and Deputy Secretary Mark Muchow at the day-long meeting. Links to materials from the meeting are available here where you can also send comments to the Committee.
The next meeting is May 18 where the Committee will hear from the conservative Tax Foundation as well as the National Conference of State Legislatures.
It's too early to say what the Committee's recommendations will be but we can look at ALEC-influenced policies in other states like Kansas to get an idea. More on this week's discussion and the budget disasters taking place in Kansas here. For an overview, read Monday's editorial in the Charleston Gazette here. Here's a small piece of it: "If total revenue is lowered, the tax-cutters must spell out exactly what state services will be reduced: Will West Virginia have fewer state troopers, or mine inspectors, or highway workers, or schoolteachers, or college professors, or food inspectors, etc.?"
Let's Support West Virginia Working Moms This Mother's Day
Working moms often struggle to make ends meet. Many get a boost through the Earned Income Tax Credit (EITC) and the Child Tax Credit (CTC), providing them more resources to support their families and pay for expenses like day care.
The federal EITC is a tax credit for low- and moderate-income working families and individuals. The CTC provides a tax credit of up to $1,000 for each eligible child to low- to upper-middle income working families.
Key provisions of the federal EITC and the CTC are set to expire at the end of 2017. More than 16 million people in low- and modest-income working families, including 8 million children, would fall into – or deeper into – poverty in 2018 if Congress doesn't make the provisions permanent.
Give working mothers a gift this Mother's Day by calling your representatives in Congress asking them to protect these important programs.

WV American Water Wants to Raise Our Rates, Again
A month ago, WV American Water said that costs associated with the Freedom Industries spill would be included in their next rate hike. Since then, citizens have been organizing to tell WV American Water: "We Won't Pay for Your Mistakes!"
Last week, WV American Water announced that they had changed their mind: costs associated with the Freedom spill are not included in their rate increase.
But, WV American Water has not given up on making us pay for their problem. In fact, they said that they will be seeking a separate, additional rate increase at a later date to recover the costs from the water crisis. Not only have they not fixed our water system, they want us to pay for their mistakes!
Join Advocates for a Safe Water System on Sunday, May 17 to tell WV American Water that we won't pay for their mistakes. Meeting at 2 PM at their water treatment plant (corner of Smith and Court St.). More than 190 people have signed up — add your name here.
Work-Life Balance Training and Discussion
This presentation, borrowed from the Rockwood Leadership Institute, will explore the question of work-life balance from a variety of viewpoints and tools – a survey about workload, frameworks for thinking about your workload, strategies for achieving "balance," an opportunity to reflect on your own experiences, etc.
Work-Life Balance Training and Discussion
Friday, May 15 @ 3:30-5:00pm
YWCA, 3rd Floor * 1114 Quarrier St * Charleston, WV
This month's trainer: Stephen Smith
Please email ourchildrenourfuturewv@gmail.com to RSVP. Please include your name, phone, address, and the number of people you will bring.
Price of Higher Education About to Go Up?
West Virginia families sending their kids to in-state colleges and universities could take another hit according to today's Charleston Gazette. West Virginia University is considering a nearly 10 percent increase in tuition which has already increased 29 percent over the past five years. Last week, West Virginia State University announced a seven percent increase, and officials at Marshall University are trying to figure out the best way to fund for their budget gap without passing the costs along to students.

Higher-education administrators are faced with tough choices due to shrinking state funding. State leaders decided that tax giveaways to businesses took priority over maintaining funding for higher education, and now West Virginia families and students are paying the price.
This is something to keep in mind as legislators meet on Monday, May 4 to consider more ways to overhaul the state's tax system. What will their priorities be? You can listen in to the discussion here by clicking House Government Org. Here's the committee's agenda.
West Virginia Has One of the Lowest Property Tax Burdens in the U.S.
While West Virginia students are paying more to get their degrees, state businesses could get another break if legislators decide to lower their property taxes. Businesses in West Virginia already pay property taxes at a rate less than the national average. Take a look at the pie chart below to see who would pick up the slack if businesses get a break on their taxes.

Much more in Sean's blog post about West Virginia's current system which provides equal treatment of all property, and the probable motivation behind a possible overhaul.
Try This Conference Registration Goes Up Tomorrow
Start your summer off with the Try This Conference in Buckhannon, June 5-6. Enjoy two idea-packed, inspiring days with like-minded West Virginians! Registration goes up by $50 tomorrow so register today!