"Right to Work" Debated in Public Hearing
So-called "Right to Work" legislation remains on the fast track having already passed the full Senate and the House Judiciary committee. It will likely be taken up by the full House on Monday.
This week the House held a public hearing on the controversial bill. Here's more in the Charleston Gazette-Mail and the Beckley Register-Herald.
Here are a few facts about "Right to Work" laws.
•Rigorous studies show RTW laws do not boost job growth.
•Low workforce skills are a cause of slow economic growth in neighboring Kentucky, not lack of RTW.
•RTW laws weaken labor unions.
•RTW could lower wages even more in West Virginia.
More here in our full report.
EITC Awareness Day
Did you know that over 150,000 West Virginia tax filers claim the federal Earned Income Tax Credit (EITC)? For Tax Year 2015 working West Virginians making up to $53,267 may receive some amount of this refundable credit (West Virginia Alliance for Sustainable Families).
On Friday, this pro-work, anti-poverty program was celebrated at the state Capitol with the 2016 EITC Champion of the Year, Landau Eugene Murphy, Jr.
Volunteer Income Tax Assistance (VITA) sites help make the program successful. If you would like to become a VITA volunteer, please go here for more information.
It's time for West Virginia to join 26 other states which also offer a state Earned Income Tax Credit. Ask the House Finance Committee to consider legislation to enact a WV EITC with one quick action.

2016 EITC Champion of the Year, Landau Eugene Murphy, Jr. at WV Capitol to commemorate EITC Awareness Day

West Virginia State Senate recognizes EITC Awareness Day on January 29, 2016
Cut in Coal Severance Tax Unaffordable
If you are a regular Budget Beat reader, or even if this is your first issue, you are likely aware of West Virginia's growing budget deficit, topping $350 million this fiscal year.
Industry leaders are calling for a cut in coal's severance tax as a measure to boost jobs and production during these hard times. Dropping the severance tax from 5% to 2% will not only further harm the state's budget but also not do much to lift up the coal industry.
With its thinning coal seams and lower productivity, West Virginia has lost market share to western states, in particular Wyoming. West Virginia has seen its share of total U.S. coal production decline from 14.4% in 2001 to 11.5% in 2013, while Wyoming's has increased from 32.7% to 39.4%.
So while the industry points to the lack of severance tax in Pennsylvania, and a lower severance tax in Kentucky, as reason to lower West Virginia's tax, those states have seen their market shares decline as well in the face of higher productivity out West.
Read more in Sean's blog post.
The West Virginia Coal Association announced it intends to push for a cut in the state's coal severance tax rate, from its current rate of 5% to 2%, as an attempt to jumpstart the state's ailing coal industry. This is the latest in a series of attempts to give coal a tax break under the justification of increasing coal production and employment in the state. While past attempts have taken the form of credits and other schemes, this effort is a straightforward cut in the severance tax rate. But with the state budget already in a precarious position, is a tax cut the solution to coal's problems, or will it lead to even more trouble for West Virginia?
It's clear that the coal industry is struggling, particularly in southern West Virginia. The state's coal production is expected to be down 39% from 2008 to 2015, while nearly 50 coal companies have declared bankruptcy nationwide. But while giving coal a tax break sounds like a quick fix to help turn the industry around, it's unlikely to do much to help increase production or employment, while doing some serious damage to the state budget.
There are a number of factors at play affecting West Virginia's coal industry that offering a severance tax break just won't overcome. Chief among those is the fact that there is little evidence that the severance tax plays a big role in determining production and employment. Instead, reserve location, market demand, and logistics all play a much greater part in driving production and employment. That's why when the Wyoming Legislature modeled the effect of a substantial severance tax cut for coal, it found only a minor increase in production but a large decrease in revenues. And last year, in West Virginia, the West Virginia Bureau of Business and Economic Research (BBER) found that the various proposed tax incentives for coal would offer only small increases in production. As BBER director economist John Deskins put it, "It would be hard for a 5% price change to overcome those logistical systems that these companies have put in place over years and years."
The coal industry often argues that the state's severance tax makes West Virginia uncompetitive, however, coal seams are getting thinner and it's more expensive to mine coal here than in other states, particularly those out West, severance tax or no severance tax. In fact, of the top 10 coal producing states in 2013, West Virginia had the lowest coal mine productivity, meaning that it is much more labor intensive, therefore expensive, to mine coal from seams in West Virginia, than in any other state.
While Central Appalachian states like West Virginia have been hamstrung by thinning seams and lower productivity, they has been losing market share to western states, in particular Wyoming. West Virginia has seen its share of total U.S. coal production decline from 14.4% in 2001 to 11.5% in 2013, while Wyoming's has increased from 32.7% to 39.4%. So while the industry points to the lack of severance tax in Pennsylvania, and a lower severance tax in Kentucky as evidence of West Virginia's uncompetitiveness, those states have seen their market shares decline as well in the face of higher productivity out West.
In fact, while West Virginia has lost coal market share to Wyoming, it has happened even as Wyoming coal faces both higher severance and overall taxes. West Virginia's effective severance tax on coal is 4.25%, compared to Wyoming's rate of 5%, while overall taxes in West Virginia on coal total 6.5%, well below Wyoming's rate of 10.6%. Even with taxes nearly 40% lower in West Virginia, it isn't enough to overcome Wyoming's productivity advantage.
But beyond competition from coal in other states, West Virginia coal faces even stiffer competition in its own backyard from natural gas. Booming natural gas production, which is subject to the same 5% severance tax in West Virginia as coal, has hurt the coal industry as well. The Marcellus and other shale plays have led to a glut of natural gas, driving energy prices down, making gas-fired electricity often a better deal than coal. In fact, natural gas topped coal as the nation's largest source of electricity for several months in 2015. And again, a cut in the state's severance tax will do little to help make coal more competitive with natural gas.
So while a cut to the severance tax will do little to aid the coal industry, it would spell disaster for the state budget. The severance tax on coal produced a little over $311 million in FY 2015, including both the state and local share. Cutting the severance tax rate from 5% to 2% would have cost nearly $220 million, digging an even deeper financial hole than the state already finds itself in.
The severance tax is important to West Virginia's budget, and it's important that we keep it. While the coal industry has long provided important benefits to the state and local economies, it also has created its share of costs, to the point where it can cost the state and taxpayers more than it provides. The severance tax is one of the only ways we have to account for the costs created by the coal industry. And while the coal industry is struggling, it doesn't mean it should be let off the hook with a dubious tax cut.
Join Us at the Capitol This Week
This Thursday, January 28, join us for Kids and Families Day at the state Capitol hosted by the Our Children, Our Future campaign. This is one special day each year when hundreds of everyday kids, families and community leaders make their voices heard. Join us under the Rotunda starting at 9AM. Go here to register.

And join us on Friday for State EITC Awareness Day! Here's the agenda for the day:

Thank You for Your Support
On Tuesday, the WVCBP marked the start of the 2016 Legislative Session with our 3rd annual Budget Breakfast.
Ted gave his yearly outlook on the state's upcoming budget and this year we were honored to have Alexandra Sirota as our keynote speaker from the North Carolina Budget and Tax Center. Both presentations are available here.
The governor's proposed budget calls for another year of cuts to higher education funding. Here's what Ted had to say to West Virginia Public Broadcasting about how this would impact our college and universities, and the students who go there.
The WVCBP also honored Linda Frame for eight years of service. She is one of the original members of our team, coming on board January 1, 2008. Linda is our Communications and Administrative Manager and was humbled (and completely surprised) to receive this recognition.
At the Capitol….
Update: On Thursday, the West Virginia Senate passed SB 1 which would make West Virginia a "Right to Work" state. The 17-16 vote fell along party lines. Here's what you need to know about the so-called Workplace Freedom law and how it would harm unions and our economy.
The House of Delegates is expected to take quick action to repeal the state's prevailing wage. Here's more in the Beckley Register-Herald on how this bill would harm working families. And here's why repealing the prevailing wage is unnecessary in West Virginia.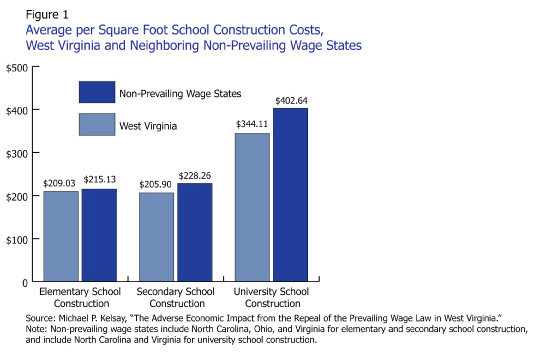 So-Called "Right to Work" Bill is First of the 2016 Legislative Session
The very first Senate Bill introduced this year would make West Virginia the next so-called "Right to Work" state. As they deliberate the legislation, West Virginia legislators are relying on a flawed analysis from WVU's College of Business and Economics according to a report out this week from the Economic Policy Institute. Here's more in today's Charleston Gazette-Mail.
The bill was passed out of Senate Judiciary today on a 9-8 vote.
Here's more in Ted's blog post on why "Right to Work" legislation cannot be linked to creating West Virginia jobs and improving its economy.
Ted's Statement on Governor Tomblin's State of the State Address
What the governor proposed will make West Virginia's hard times even harder.
Instead of a balanced approach that includes revenue to meet the state's growing needs he relies on cuts to the public investments that help build strong economy.
His higher education cuts would pile more debt on our college students and their families. The ideas he offered won't help West Virginia's working families, keep young people in our state or help people move from poverty to the middle class.

Last Chance to Register!
Yesterday, the governor released his proposed budget for the upcoming year and by Tuesday we'll be ready to tell you everything you need to know about it. Spoiler alert: the state is facing a $353 million deficit and we can expect more cuts to important programs like higher education.
The 2016 Budget Breakfast is on Tuesday – have you registered?

In Case You Missed It
On Monday a diverse group of experts came together in Charleston to discuss how a West Virginia Earned Income Credit could benefit the state's working families and its economy. Speakers presentations are available here. Here's more in the Charleston Gazette-Mail.

Senate Finance Chairman Mike Hall talks about West Virginia's current budget situation.
Limiting SNAP Benefits Won't Boost Employment
On January 1, the West Virginia Department of Human Resources (DHHR) added a so-called work requirement to the Supplemental Nutrition Assistance Program (SNAP).
In nine West Virginia counties, adults aged 18 to 50 with no dependent children must participate in a work or educational activity for a monthly average of 20 hours per week in order to maintain SNAP eligibility, with some exceptions. In West Virginia, there are about 37,000 adults who could lose SNAP benefits from this policy change.
Denying recipients about $150 a month for food in counties that have not recovered from the recession sounds is bad policy. In fact, 8 out of the 9 counties affected have more people unemployed now than before the Recession. Here's more in Sean's blog post.
It's That Time of the Year! Here's Where You Can Find Help At Tax Time!
Upcoming Events at the State Capitol This Month
January 28: Kids and Families Day
January 29: West Virginia Earned Income Tax Credit Awareness Day
Back in November, the Business Bureau of Economic Research at West Virginia University released a study by John Deskins that concluded that the adoption of a "Right-to-Work" (RTW) law in West Virginia would boost employment and GDP growth, have no discernible impact on wages, and reduce unionization rates.
The problem with the WVU study – and many studies that look at the economic impact of RTW laws – is that it is very difficult to untangle the impact of RTW laws on a state's economy from other important factors (e.g. air-conditioning, infrastructure, quality of life, etc.).  Another problem in teasing out the effects of RTW laws is that there are not a lot of  natural experiments where you can look at the before and after impact of RTW on a state's economy.
While Indiana (2012), Michigan(2012), and Wisconsin (2015) have recently adopted RTW laws, only two states since 1980 have done so – Idaho (1985) and Oklahoma (2001) – that provide an opportunity to provide some significant correlations between RTW laws and state economic performance. This is precisely why state economic development expert Tim Bartik found that the WVU RTW study offered no conclusive evidence that RTW would boost economic development.
There are only two recent peer-reviewed academic studies (non-think tank studies) that examined the effect of RTW laws in Idaho and Oklahoma – both by Ozkan Eren (Louisiana State University) and Serkan Ozbeklik (Claremont McKenna College). Eren and Ozbeklik's most recent study (2015) on the effects of RTW in Oklahoma found that it decreased private sector unionization and had no impact on employment, private sector wages, or the manufacturing sector. And unlike the WVU study that did not include any caveats about the impact RTW would have on West Virginia, Eren and Ozbeklik conclude that even with these results in mind, that there is "still no clear consensus among policy makers and researchers" of RTW laws on state economies.
An earlier study (2011) by Eren and Ozbeklik that looked the effects of RTW in Idaho and Oklahoma found similar results for Oklahoma (no impact on manufacturing wages or employment or per capita income) while in Idaho it found that RTW increased manufacturing employment but had no effect on per capita income.
These findings are illustrative of  why we should always proceed with caution in expressing certainty over the impact of RTW laws on state economic outcomes. This is one of the major shortcomings of the WVU study by John Deskins. For example, the WVU study concludes that RTW "would lead to a decrease in private-sector union membership, and an increase in employment and output growth in West Virginia."
As Yogi Berra said a long time ago, it is difficult to make predictions, especially about the future. And this conclusion illustrates why this study does not rise to the level of scholarship found in peer-reviewed academic journals.
Another problem with the WVU study is that its own analysis seems to contradict its conclusion that passing RTW in West Virginia "would" increase the state's job growth. As economist Tim Bartik notes: 
The West Virginia study includes information that undermines the claim that adoption of RTW laws "certainly" increases job growth. The study includes some information on trends before and after RTW adoption in 10 states that adopted RTW laws after 1950. In 5 of these states, job growth increased after adoption of RTW, and in 5 states job growth decreased after adoption of RTW. This very mixed and uncertain result is representative of the overall findings of RTW research.  Based on current evidence, it is highly uncertain whether RTW laws have any positive effects on job growth. 
Despite promises from RTW supporters in Oklahoma that the law would boost manufacturing job growth, the opposite has happened. Since the adoption of RTW in 2001, Oklahoma has lost over 38,000 manufacturing jobs. While the adoption of RTW in Oklahoma most likely did not cause these manufacturing job losses, claims that RTW would boost manufacturing employment clearly did not materialize.
While the debate about whether to adopt a RTW law is mostly about political power and the ability to "free ride" on the benefits provided by union representation, the economic research – as we highlighted in this earlier report – shows that RTW is unlikely to boost economic growth and it could, as Bartik suggests in this State Journal article, pave the way for a lower-wage economy in the Mountain State. This means less freedom for working families and more economic stagnation.
As of January 1, the West Virginia Department of Human Resources (DHHR) has added a so-called work requirement to the Supplemental Nutrition Assistance Program (SNAP). Under the policy, adults aged 18 to 50 with no dependent children must participate in a work or educational activity for a monthly average of 20 hours per week in order to maintain SNAP eligibility, with some exceptions. In West Virginia, there are about 37,000 adults who could lose SNAP benefits from this policy change.
Federal law limits able-bodied adults to three months of SNAP out of every three years unless they are working at least 20 hours a week, participating in a work training program at least 20 hours a week, or participating in some other workfare program. States can request a waiver of these limits in areas of high unemployment, and most states waived the time limit statewide during the recession and slow recovery. Now WV's DHHR is letting the waiver expire for nine West Virginia counties.
Unemployment in West Virginia has risen sharply in the past year, even as it had never fully recovered from the recession. Now the state has one of the highest unemployment rates in the nation, and, according to the Bureau of Labor Statistics, there are more than 39,000 fewer West Virginians employed now than there were before the recession.
Even in the nine counties chosen by DHHR to let the waiver expire, the economy has not fully recovered. While they were chosen because their unemployment rates are low, there are more unemployed workers and fewer employed workers in those nine counties than there were before the recession.
With the slow recovery contributing to a weak job market in West Virginia, many people have trouble finding enough to eat. The share of households in West Virginia experiencing food insecurity has grown from 8.8 percent in the early 2000s to 15.3 percent in 2012-2014, a full percentage point higher than the national average, while nearly one in five West Virginians is living in poverty.
With fewer West Virginians working than before the recession, even in the counties with the lowest unemployment rates, it's clear that many still need help while they search for jobs. But DHHR has decided to limit SNAP for able-bodied, childless adults to just three months of basic food assistance during a three-year period if they aren't working in nine counties. 
To be clear, the policy change is a time limit, not a work requirement. Calling it a work requirement suggests that it encourages people to look for work and provides a training or workfare position to everyone subject to the time limit. However, individuals working up to 20 hours per week and those looking for work are still terminated from SNAP after three months. An able-bodied adult without dependents must work 20 hours a week, participate in a job training program for 20 hours a week, or perform workfare in order to receive more than three months of benefits.
While DHHR has suggested that there are sufficient slots in employment and training programs to accommodate all of the recipients who may need them in order to maintain SNAP eligibility, as WVCBP friend Betty Rivard asks, it is unclear whether recipients will have the transportation they need, or the type of training that improves their skills and moves them toward available jobs. Further, administering the provision is a complex and difficult task. Identifying who on the caseload is qualified, screening for exemptions, tracking months of participation, and monitoring hours worked and participation in training programs requires new systems, forms and notices as well as substantial training and support of eligibility workers. States need time and resources to prepare.
Those at risk of losing their SNAP eligibility are an extremely poor and vulnerable group. Individuals subject to the three-month limit have average monthly income of approximately 17 percent of the poverty line (or about $2,000) and over 80 percent have incomes below half of the federal poverty line, and they typically qualify for no other income support. Many face significant barriers to work, such as returning from military service, homelessness, felony convictions, a lack of transportation, or lack of a high school diploma.
Food benefits are paid for with federal dollars and are already very modest, averaging about $150 to $170 per person per month for this group. Denying these benefits to the unemployed will do nothing to create new jobs and will not save the state any money. What it will do is increase food hardship and the burden on local food banks struggling to serve the hungry. People who will be cut off from food assistance because of this rule are some of the poorest people in the state who, for the most part, are not eligible for other types of assistance. Now, it will be harder for them to eat.
Most West Virginians would likely agree that it is unfair—not to mention uncompassionate—to deny food assistance to someone who is searching for a job, but is unable to find one because of a shortage of jobs. But that is exactly what the administration's policy change is poised to do.
Great Discussion, Free Lunch, What Are You Waiting For? Registration Closes Today!
Join us for a free event to learn more about the economic impacts of a West Virginia Earned Income Tax Credit (EITC).
When: January 11 from 9:30 AM – 2:00 PM
Where: Embassy Suites, downtown Charleston
Who: Financial education practitioners, researchers and stakeholders, including representatives from the FDIC, Richmond Federal Reserve, Marshall University, Duke University, the United Way and KISRA will discuss the effects of a state EITC on West Virginia's economy and its families.
The event is free and registration is required to reserve lunch.
Why: Gain a better understanding of how a West Virginia EITC could boost local economies while positively impacting families who earn low wages
Supported by the Claude Worthington Benedum Foundation, the West Virginia Alliance for Sustainable Families, the West Virginia HUB, the West Virginia Healthy Kids and Families Coalition and the West Virginia Center on Budget and Policy.
What a West Virginia Working Families Tax Credit Would Mean for the State and Its Economy
This week the WVCBP released its first report of the new year: A Tax Cut That Works for Working Families: A West Virginia Earned Income Tax Credit.
A pro-work, West Virginia EITC modeled after the federal credit would allow low-paid families to keep more of what they earn, reduce the substantial state and local taxes they pay, and give a boost to local businesses. Relative to other kinds of tax cuts, it's a targeted and modest investment that can make a big difference for thousands of working West Virginia households in every corner of our state.
Here more in the Parkersburg News and Sentinel.

2016 Legislative Session Starts on Wednesday: Here's One Issue We Will Follow
It's hard to believe that the 2016 Legislative Session is right around the corner. The WVCBP staff will be there to dissect the tough issues and bring balance to the discussion.
One topic that's likely to be on the agenda again this year, after being tabled in 2015, is the dangerous movement to pass a resolution calling for a Constitutional Convention. Here's a great explanation on why this is an awful idea.

Welcome, Dillon!
This week the WVCBP welcomed our spring intern, Dillon Neace, to our team. Dillon is a graduate student completing a Master's Degree in Public Administration from Marshall University where he also earned a Bachelor's Degree in Political Science in 2014.
During his undergraduate career, he was also a Frasure-Singleton intern at the West Virginia Legislature.
Dillon will be working on research and analysis of the governor's budget, set to be released next week, as well as helping with outreach and bill tracking during the 2016 Legislative Session.
To learn more about our fellowship and internship programs, go here.

Welcome, Saul!
Joining our WV EITC fellowship program from the southern part of the state is Saul Harlow. Saul is a senior at Concord University who will graduate this Spring with a degree in Political Science and a Pre-Law minor. He works with Concord's Student Government Association to improve the lives of his classmates and, in his spare time, enjoys playing percussion with the school's jazz band.
Have You Registered?
So many great events, so little time left to register!
Time is running out so why not get one more thing off your to-do list by registering today for the 2016 Budget Breakfast!