This week, the House of Delegates will consider a bill (HB 2704) that will extend the state's sales and use tax to more services  in conjunction with lowering the sales tax rate.  HB 2704 would remove several services currently exempted in West Virginia's sales tax, including services provided by lawyers, accountants, architects, engineers, investment counselors, contractors, and veterinarians. The bill would also apply the sales and use tax to purchases of mobile homes, advertising, digital downloads, computer software, private fitness club memberships, and electronic data processing. 
The bill would also reduce the sales and use tax from 6 percent to 5.5 percent, while lowering the sales tax rate even further in outer years if certain triggers are met with the balance in both Rainy Day Funds (A and B). The sales and use tax rate would drop to 5.25 in 2018, 5 percent in 2019, and 4.75 percent in 2020 if the Rainy Day Fund is above 15 percent of the General Revenue Fund. Currently, the Rainy Day Fund has a balance of about 20 percent of the General Revenue Fund (notwithstanding the $51.8 million recently appropriated for FY 2016, which would drop this down to 18.5%). 
The only states in the country that tax some professional services are Hawaii, New Mexico, Delaware, North Dakota and Washington State and each of them do so in a myriad of ways. 
According to the most recent Tax Expenditure Report (2016), these tax exemptions amount to about $365 million in forgone revenue in 2016. Since veterinarian services are not itemized in this report, an estimated revenue impact (based on the 2012 Economic Census) would be approximately $8 million based on total receipts of $135 million in 2012. As the Figure below illustrates, this brings the total to approximately $373 million.
Total sales and use tax revenue for FY 2017 is projected to be $1.379 billion. Included in that figure is $60 million from Governor Tomblin's proposed tax on telecommunication services, which is not included in HB 2704, and will most likely not be passed by the legislature this year.
Dropping the proposed telecommunications tax and reducing the sales tax rate from 6 percent to 5.5 percent would reduce FY 2017 sales tax revenue by an estimated total of $169.9 million. With the sales tax lowered to 5.5 percent, eliminating those exemptions would increase revenue by $341.9 million (grey bar above) under the assumption their would be no change in behavior (static instead of dynamic score)
All told, cutting the sales tax rate to 5.5 percent, eliminating the exemptions in HB 2704, and canceling the planned telecommunications tax would increase net sales tax revenue by $56 million for FY 2017 since these changes do not take place until the second half of FY 2017. This is about the same amount of revenue that the Governor estimated from his proposal to apply the sales tax on telecommunications for FY 2017. 
Triggering Sales Tax Cuts to Rainy Day Funds Unsound Policy
Now that we have a ballpark idea of how this bill will impact the budget, it is important to determine whether this is sound policy. One of the most troubling aspects of the bill is that it contains triggered reductions in the sales tax rate based on the size of the Rainy Day Fund, which usually only receives deposits from surplus revenue at the end of each fiscal year. Instead of tying the sales tax rate reductions to the Rainy Day Fund, it would be much more prudent to tie them to revenue benchmarks or not include them at all. As we experienced with the reductions in the business tax cuts that were triggered in the same way, we could see cuts in programs and services at the same time that we are building our Rainy Day Fund.
Is it Good for Working Families?
It is hard to tell. At one level, having a broad sales tax base with a lower rate is sound tax policy, leading to less revenue volatility. It is what tax nerds like myself call horizontal equity. or the principle that people in similar circumstances with the same ability to pay should pay equally. Moreover, the inclusion of professional services also makes the sales tax more progressive. As deputy editor of Tax Analysts David Brunori notes in this Forbes article:
The sales tax should fall on all final consumption — preferably at a very low rate. So everything we buy should be subject to tax. There are several reasons for this. First, there is no economic or tax policy reason to tax the purchase of a toaster oven but exempt the purchase of a haircut or accounting service. They're both consumption. Second, exempting services narrows the base and results in higher taxes on everything else. Third, exempting services creates a government-led incentive to spend money on services over things that are taxable. But the tax laws shouldn't be used to mess with markets in that manner. Fourth, taxing services would make the system less regressive; rich people buy more services than poor people. Finally, the exemption in a service-dominated economy is very expensive.
While expanding the sales tax to more services is in line with promoting horizontal equity, how does it impact vertical equity or the principle that people with the greater ability to pay should pay more? While West Virginia does not use tax incidence modeling, other states do that may be able to provide some insight. For example, according to a recent report from the Texas Comptroller on tax exemptions and tax incidence,  sales and use taxes on several professional services are more progressive than most sales taxes and more of the revenue is generated out of state. 
For example, the sales tax on legal services is mostly flat  – averaging about 0.1 percent of household income across the income distribution compared to the state's overall sales and use tax that falls relatively harder on low income households. Another important aspect is the exportation of taxes, which is a big factor in West Virginia since the state has a very large exportable tax and industry base.
Overall, only 21 percent of sales and use taxes in Texas are paid out of state compared to 25 percent for legal services, 41 percent for architectural and engineering services, and 35 percent for accounting services. Taxes on professional services are also paid more by businesses and than individuals. While businesses in Texas pay about 42 percent of all sales and use taxes, this share grows drastically with professional services where businesses pay 75 percent of legal services, 59 percent of architectural and engineering services, and 92 percent of accounting services.  Based on the make up of West Virginia economy, it would be surprising if these figures where not higher in West Virginia.
While the above analysis only included some of the services included in HB 2704, many of the others would follow a similar pattern in terms of tax incidence – such as internet purchases (digital downloads), private gym memberships, investment counseling, advertising, and computer software – while others like taxing mobile homes may fall much harder on low-income households.
It is also important to consider how lowering the sales tax rate would impact low and moderate income families. Would this reduction, along with the broadening of the sales tax base to include more services, increase or decrease the share of income low and middle income families pay toward sales taxes? At this point it is hard to say, but my guess is that it would slightly lower the effective tax rates on these families. It also depends on how these changes will impact important services and programs that these families receive in the state.
Another important factor to consider is how it will alter business behavior. Will adding professional services provide incentives for more vertical integration, which will could put small businesses at more of a disadvantage, and how will West Virginia administrate sales that take place in other states? How will taxing business-to-business sales of services effect state competitiveness or potentially harmful tax "pyramiding" that occurs from taxing business inputs? These are all important considerations, among others.
In the final analysis, having a broader sales tax base is sound policy insofar that is doesn't hurt state investments or low and moderate income families. This is especially true if the expanded base of the sales tax includes services that are predominately purchased by more affluent households. At the same time, when adopting sales tax increases it is also important to keep in mind the fairness of West Virginia's state and local tax system. Currently, low and middle families in West Virginians pay a higher share of their income in taxes than wealthier families.
If the legislature is intent on expanding the sales tax to more services and are worried about the impact it might have on low and middle families, than they should consider including a refundable state Earned Income Tax Credit (EITC). A state EITC would not only improve tax fairness, but it could also boost the state's labor force, reduce poverty, and have a positive on impact on social and economic outcomes in the future.  
Perils of Calling a Constitutional Convention
This week the Senate passed SCR 10 which would add West Virginia to the states supporting the call for a convention to amend the U.S. Constitution. The House is considering a variety of bills and resolutions of its own including HB 4449, HB 2424 and HCR 36.
The House Judiciary Committee may take up HCR 36 any day now. This dangerous resolution calls for a constitutional convention of states to propose a balance budget amendment (BBA) to the U.S. Constitution.
West Virginia is one of the latest states in a targeted national campaign. Out-of-state organizations are urging states to pass boiler-plate resolutions as they work to collect the required 34 states to call for a convention.
Depending on how various state legislatures wrap up their deliberations (Nebraska just tabled its version), we could see the number reach the 30s this year. Keep in mind that there are no established ground rules for how this would transpire and it could open up the Constitution to radical and harmful changes.
A BBA is particularly harmful as it does not allow saved-up money to be spent. It would define "balanced" as spending no more in any year than the revenues collected that same year. Imagine if if a family had to meet that standard. It would prohibit them from borrowing for college, health emergencies or to buy a home. For example, a frugal family that saved money into a college savings accounts (529) would not be able to use these savings under the BBA proposal because it would only be able to use the funds saved in that year.
Here's more in Ted's blog posts here and here, and in this week's Beckley Register-Herald.

Balancing the West Virginia Budget
What have legislators done so far this session to close West Virginia's budget gap? Find out the latest in Sean's weekly recap including the much-discussed increase in the state's tobacco tax passed by the Senate this week. The fate of that bill now lies in the hands of the House Finance Committee.
Here's an editorial in this week's Charleston Gazette-Mail on the $466 million budget gap for the upcoming fiscal year. It cites data from our annual budget analysis released last week. Here's a piece in the Clarksburg Exponent-Telegram on legislators' reactions to our report. 
Public Service Commission Approves Water Rate Hike
This week the West Virginia Public Service Commission approved a 15.1% rate hike for West Virginia American Water Company, giving West Virginia the 4th highest water rate in the nation.
To learn more about what this all means to you and what you can do about it, join others on Monday, March 8 (see below). RSVP here. 
Equal Pay for Women a Solution to Poverty
If women received the same pay as men, their poverty rate would be cut in half while adding $482 billion to the U.S. economy.
Status of Women in the South, released this week by the Institute for Women's Policy Research, showed some troubling trends for southern women including virtually nonexistent access to paid sick leave and limited participation in the political process.
If West Virginia continues at the current rate of progress since 1975 in electing women to our state legislature, we will have to wait over 200 years to reach parity between the genders. This dubious distinction ranked the state dead last along with South Carolina.
Who Pays?
Read more here in this week's report from Institute on Taxation and Economic Policy.
As Ted and I explained in our report on the FY 2017 budget, there are a number of steps the governor is requesting the legislature to take in order to both close the FY 2016 budget gap of $381 million and the FY 2017 budget gap of $466 million. Here's an update of where the governor's bills stand:
***UPDATED 2/26/2016***
Senate Bill 341 moves $26.7 million in expiring funds from the Insurance Commissioner into General Revenue. It has been passed both chambers and is awaiting the Governor's signature.
Senate Bill 342 reduces General Revenue Medicaid appropriations by $53.9 million, so that surplus Lottery revenues can be used instead. It has passed both chambers and has been signed by the governor.
Senate Bill 352 ends a revenue transfer to the Port Authority, keeping $4.3 million in the General Revenue fund. It has passed the Senate and is currently in the House Finance Committee.
Senate Bill 355 imposes the sales tax on telecommunication devices, increasing revenue by $10 million for FY16 and $60 million in FY17. It is currently in the Senate Finance Committee.
Senate Bill 356 suspends a revenue transfer to State Road Fund, keeping $9.0 million in the General Revenue Fund. The bill made it to 3rd reading in the Senate before being referred to the Senate Rules Committee.
Senate Bill 357 is a supplemental appropriation of $9.8 million from Lottery to Senior Services for Medicaid. It has passed both chambers and has been signed by the governor.
Senate Bill 360 is a supplemental appropriation of $10.1 million from Excess Lottery to the Division of Human Services for Medicaid. It has passed both chambers and has been signed by the governor.
Senate Bill 364 is a supplemental appropriation of $5 million in expiring funds from he Insurance Commissioner, to General Revenue, and the transfer of $51.8 million from the Rainy Day Fund. It has passed both chambers and has been signed by the governor.
Senate Bill 400 reduces the amount of sales tax dedicated to the School Major Improvement Fund by $3 million. The bill has passed the Senate and and is currently in the House Finance Committee.
Senate Bill 419 redirects the revenues dedicated to the Workers' Compensation Debt Fund to General Revenue, increasing revenue for the General Revenue Fund by $92 million in FY16. It has passed the Senate and an amended version has passed the House, sending it back to the Senate.
Senate Bill 420 increases the tax on cigarette and tobacco products, increasing revenue by $18.9 million in FY16 and $78 million in FY17. The Senate amended the bill, setting a higher tax on cigarettes than the governor's proposal. The bill has passed the Senate and and is currently in the House Finance Committee.
Senate Bill 421 repeals the severance tax on Behavioral Health Providers, and replaces the revenue by extending the sales tax to non-home use durable medical equipment, increasing revenue by $14 million. The bill is on its 2nd reading in the Senate
Senate Bill 444 is a supplemental appropriation of $7.2 million to DHHR, including $4 million for Medicaid. It is currently in the Senate Finance Committee.
Senate Bill 449 is a supplemental appropriation of $15.3 million to Public Defender Services. It has passed both chambers and is awaiting the Governor's signature.
Senate Bill 450 is a supplemental appropriation of $4.5 million to DHHR.   It has passed both chambers and is awaiting the Governor's signature.
Senate Bill 452 revises the school aid formula, reducing state costs by $14.8 million. The Senate Education Committee reported the bill out without acting on it, and the Senate rejected the Committee's report, sending it back the the Education Committee.
House Bill 4217 reduced the distribution to the State Infrastructure Fund from Excess Lottery by $10 million. It is on 1st reading in the House as of 2/26/2016.
House Bill 4220 is the same as Senate Bill 330, and is in the House Finance Committee.
House Bill 4269 is the same as Senate Bill 452. It is currently in the House Education Committee.
The House Judiciary Committee is likely to take up a dangerous resolution – House Concurrent Resolution 36 – that calls for a constitutional convention of states to propose a balance budget amendment (BBA) to the U.S. Constitution. As I discussed earlier, there are no established ground rules for how this would transpire and it could open up the Constitution to radical and harmful changes.
Aside from the inherent risk in calling a convention,  the proposed BBA amendment language in HCR 36 is fraught with technical problems. For example, it states:
Applying for an Article V Amendments Convention to Propose a Constitutional Amendment permitting a calling of a convention of the states limited to proposing an amendment to the Constitution of the United States requiring that in the absence of a national emergency the total of all federal appropriations made by the Congress for any fiscal year may not exceed the total of all estimated federal revenues for that fiscal year together with any related and appropriate fiscal restraints.
Requiring that revenues offset federal spending in any fiscal year collected in that same year would drastically undercut the design of programs like Social Security and would leave serious questions regarding enforcement of that requirement. As federal budget expert Richard Kogan noted in 2014: 
Currently, Social Security holds $2.8 trillion in Treasury securities. But under the balanced budget amendment, it would essentially be unconstitutional for Social Security to draw down these savings to pay promised benefits.  Instead, benefits would have to be cut, because all spending would have to be covered by tax revenues collected during that same year. More precisely, Social Security would be allowed to use its accumulated Treasury securities to help pay benefits only if the rest of the federal budget ran an offsetting surplus.
The same problem would also occur with billions of federal funds held in trusts and reserves, such as military retirement and civil service retirement system trust funds, the Abandon Mine Lands Fund, and funds held by the Pension Benefit Guarantee Corporation (PBGC) and the Federal Deposit Insurance Corporation (FDIC).
A balanced budget requirement in the U.S. Constitution would also trump other government guarantees and promises written into law, according to Kogan. This includes interest paid on the debt and guaranteed claims on bank deposits, loan defaults, or nuclear accidents. And it also means that program benefits held in reserves and insurance trusts funds for Medicaid, Medicare, unemployment benefits and veterans' benefits would not count as revenues but would count as spending under a balanced budget requirement.
There is also a major problem with enforcement of a balanced budget amendment. For example, what happens when the budget is out of balance? Who has the power to impose balance? The president? If the president has unilateral power, can he impose spending cuts, raise taxes or reduce tax expenditures?
What is the role of the Supreme Court? Would the Supreme Court have legal standing to challenge Congress and the President to pass a balanced budget? Would the BBA just require the 'adoption' of a balanced budget and ignore any deficits that occur? If so, would this provide big incentives for adopting rosy assumptions for revenue estimates or when enacting legislation?
For these reasons and more, a BBA had some serious design flaws. It does not allow saved-up money to be spent as it defines "balance" as spending no more in a year than the revenues collected in that year. Imagine if if a family had to meet that standard. It would prohibit them from borrowing for college, health emergencies or to buy a home. For example, a frugal family that saved money into a college savings accounts (529) would not be able to use these savings under the BBA proposal because it would only be able to use the funds saved in that year.
Not only is a BBA fundamentally undemocratic,  it could lead to the Supreme Court having to adjudicate fiscal policy. This is precisely why the Constitution does not include fiscal policies; opening up the Constitution to insert fiscal policies would be unwise and dangerous.
This afternoon the West Virginia Senate approved Senate Concurrent Resolution (SCR) 10, a resolution calling for a convention of states to amend the U.S. Constitution. Under Article 5 of the U.S. Constitution, upon application of two-thirds of the states, Congress must convene a convention to amend the Constitution. While the U.S. Constitution has been amended 27 times, there has never been a convention of states to propose amendments (unless you count the original one in 1787 that went well beyond its mandate). Similar to constitutional amendments originated in Congress, it would take 38 states to ratify any amendments from a convention of states.
As we pointed out last year, this is a potentially dangerous proposal that could create more turmoil in the country and could jeopardize many of our most cherished freedoms and rights. While SCR 10 implies that states can and should limit the agenda of a convention to a "Single Issue," it then proposes three separate (not to mention extremely vague) topics for proposed amendments, including (1) "fiscal restraints on the federal government", (2) limiting the "power and jurisdiction of the federal government," and (3) limiting the "terms of office for its officials and for members of Congress."
Pushing aside the merits of the proposed amendments in SCR 10,  there is a broad legal consensus that it would be difficult to limit or control a convention of states even if states specify it is only for single purpose. As the Center on Budget and Policy Priorities highlights in a recent report:
A number of prominent legal experts have warned that states cannot control a constitutional convention or that calling one could open up the Constitution to significant and unpredictable changes.  For instance:
"I certainly would not want a constitutional convention.  Whoa!  Who knows what would come out of it?"a
Former Supreme Court Justice Antonin Scalia
"[T]here is no way to effectively limit or muzzle the actions of a Constitutional Convention. The Convention could make its own rules and set its own agenda. Congress might try to limit the Convention to one amendment or one issue, but there is no way to assure that the Convention would obey.  After a Convention is convened, it will be too late to stop the Convention if we don't like its agenda."b 
Former Supreme Court Chief Justice Warren Burger
"There is no enforceable mechanism to prevent a convention from reporting out wholesale changes to our Constitution and Bill of Rights."c
Former Supreme Court Justice Arthur Goldberg
"First of all, we have developed orderly procedures over the past couple of centuries for resolving [some of the many] ambiguities [in the Constitution], but no comparable procedures for resolving [questions surrounding a convention]. Second, difficult interpretive questions about the Bill of Rights or the scope of the taxing power or the commerce power tend to arise one at a time, while questions surrounding the convention process would more or less need to be resolved all at once.  And third, the stakes in this case in this instance are vastly greater, because what you're doing is putting the whole Constitution up for grabs."d
Professor Laurence Tribe, Harvard Law School
"[S]tate legislators do not have the right to dictate the terms of constitutional debate.  On the contrary, they may be eliminated entirely if Congress decides that state conventions would be more appropriate vehicles for ratification.  The states have the last say on amendments, but the Constitution permits them to consider only those proposals that emerge from a national institution free to consider all possible responses to an alleged constitutional deficiency. . . Nobody thinks we are now in the midst of constitutional crisis. Why, then, should we put the work of the first convention in jeopardy?"e 
Professor Bruce Ackerman, Yale Law School
These thoughts where echoed in a recent editorial against a constitutional convention of states from USA Today saying "it would be impossible to control."
More recently, the conservative Heritage Foundation said:
…there is little doubt that some states and scholars have been reluctant to propose an Article V convention, both because of the fear of a "runaway convention" in which the delegates deviate from the purposes for which the convention was sought by the requisite number of state legislatures and propose alternative, perhaps ill-advised amendments relating to other issues or because of the fear that the legal uncertainties surrounding any convention of the states would likely result in a series of time-consuming, lengthy lawsuits that could result in the entire endeavor being undone."serve to diminish the liberties of the American people, or of some of the people."
Other conservatives also believe that a convention of states would be a terrible move, including Jennifer Rubin with the Washington Post. Rubin says:
I sincerely doubt that a convention would limit the power of government. In theory, for example, people favor a balanced budget, but in reality, they soon would learn about all the cuts in store for them. Then they'd turn to expanding government to cater to passing fancies. Even if I am wrong, the risk alone is too great to encourage a massive constitutional rewrite. Once passed, a constitutional amendment is so difficult to repeal that it has been done only once.
Here is conservative David Davenport with the conservative Hoover Institution writing in Forbes Magazine:
It's disappointing, however, when conservatives, who should be respectful of the Constitution and willing to do the hard, long political work of protecting it, instead offer the false hope of instant gratification by foolishly proposing a modern constitutional convention.
Here is conservative David Limbaugh (Rush Limbaugh's younger brother) at Newsmax:
I understand the frustration conservatives feel about the federal government's virtually unchecked growth over the past 75 years and how this is destroying our liberties and bankrupting our nation. But the Constitution isn't the problem. Rewriting it isn't the solution.Proponents of a constitutional convention might protest that their goals are far more modest than a new Constitution. Well, so were the framers' plans when they met in Philadelphia to amend the Articles of Confederation. 
There has also been conservative opposition from Larry Greenley in The New American, A. Barton Hinkle in Reason Magazine, Gary Demar in Godfather Politics and from the National Association of Gun Rights.
The biggest difference between SCR 10 and what the State Senate passed last year with SCR 13  is its scope. In 2015, SCR 13 was squarely focused on calling a convention to propose a BBA or balance budget amendment (which could wreak our economy, to say the least) and it did not pass the House. According to some estimates, only seven more states need to pass a BBA Con Con before Congress would call a convention of states. With SCR 10, on the other hand, only five states so far have passed similar resolutions. The burning question is whether the calls for an Article 5 convention need to be identical  or similar in breadth and scope in order for Congress to call a convention of states.  Unfortunately, it is unclear how Congress would aggregate each of the state's resolutions because many of them call for different proposed amendments.
West Virginia lawmakers in the House would be wise not to follow the action of the Senate today and should reject SCR 10. As Robert Greenstein with the Center on Budget and Policy Priorities carefully noted in the Washington Post:
Our country faces enough problems and division. We don't need to add to them and inflame an already toxic political environment by placing at risk the constitutional structure that has served us well for more than two centuries — and heading into dangerous, unknown territory by convening a convention to rework the Constitution.
The Senate and the House have introduced bills (SB 312 & HB 4454) that aim to make it harder for low-income people in West Virginia to receive public assistance benefits (such as SNAP, TANF and Medicaid), while potentially draining millions from the state's economy and denying benefits to those in need. Dubbed the "Welfare Fraud Prevention Act," the legislation has three core components:
 It creates an enhanced eligibility verification system (EVS) that would be run by a private third-party vendor whose task would be to screen people on public assistance (administered by DHHR) to determine eligibility. 
Eliminates federal work waivers for SNAP (food stamps) for non-disabled adults by limiting SNAP to just three months.
Requires photos on electronic benefit transfer (EBT) cards that provide contain food stamp (SNAP) benefits and cash assistance (TANF).
The legislation also requires additional data reporting of services provided by physicians and others that treat Medicaid patients and it requires the Department of Health and Human Resources  (DHHR) to track out-of-state spending on SNAP and TANF.
Both bills mirror model legislation from the Foundation for Government Accountability, a right-wing advocacy group associated with the Koch-funded State Policy Network.
This post is going to focus on the first core provision – creating an enhanced verification system. While West Virginia – and especially the federal government – should be doing all it can to stop fraud and errors in public assistance programs, this legislation could not only cost the state millions, but could wrongly deny assistance to thousands of likely eligible people.
According to DHHR, to contract with a third-party vendor to create a computerized eligibility verification system it would cost $10 million per year. The legislation  would require hiring 64 additional staff at DHHR's Office of Inspector General and Fraud Management (OIG) to carry out state-wide investigations at a cost of nearly $4.3 million. About half of these costs would presumably be shared with the federal government ($7 million). 
As DHHR correctly notes, it already maintains a computerized verification system (RAPIDS) that meets many of the provisions in this legislation, including the use of various databases within state and federal government to ensure eligibility. (All states use some form of a verification system for public assistance programs such as SNAP and Medicaid.) Therefore, requiring an additional private contractor to carry out this task may lead to huge inefficiencies and overlap, not to mention potentially reducing essential services. The concerns of DHHR where echoed in 2015 by Montana Governor Steve Bullock when he vetoed what was nearly a carbon copy of the bill introduced this year in West Virginia.
While no state has implemented a third-party enhanced verification system to cover as many public assistance programs as the one described here,  the state of Illinois implemented one for its Medicaid program in 2012. Its experience offers a cautionary tale of how such a program can fall short on savings while also denying people public assistance.
Lessons from the Illinois Experience
In 2012, the state launched the Illinois Medicaid Redetermination Project (IMRP) with $70 million of authorized funds (two years) to hire a private contractor (Maximus) to redetermine if people enrolled in Medicaid were still eligible. Based on recommendations provided by the private contractor, state caseworkers sent letters to Medicaid enrollees who they deemed may be ineligible. If these households didn't respond within 10 days or sent information confirming their ineligibility, their benefits were discontinued.
According to the Illinois Department of Human Services (DHS), a large majority (84%) of households losing Medicaid coverage in 2014 had their coverage cancelled because they did not respond, rather than not being eligible. And 89 percent of households who did lose coverage due to a non-response were "likely eligible," according to Illinois DHS.
According to a recent academic journal article by Michael Koetting – who was deputy director of the Illinois DHS from 2010 through 2014 – "at least half of the people removed [from Medicaid] were actually eligible, perhaps a lot more." In 2015, according to Illinois DHS, more than a third of households whose Medicaid health coverage was cancelled had their coverage reinstated.
Another important consideration in this redetermination process carried out by Illinois was that the people most likely to be found ineligible were not big users of the program nor did they make up a significant portion of state Medicaid costs. According to Koetting, during the first six months of the project "roughly half the people removed from the rolls had not used Medicaid services in the previous six month" and "those removed clients who had used services had used markedly fewer than those who stayed."
The promised savings from this program never materialized. While the Foundation of Government Accountability predicted (and still says) that Illinois would save $350 million in 2013 from implementing this verification system – while the state estimated it would save $150 million in 2013 – the state only saved $2.6 million during that year. In short, the state of Illinois spent millions of dollars on a private contractor to collect data the state already collected that led to canceling health care coverage for people that were likely eligible.
SB 312 and HB 4454 contain pernicious incentives to encourage removal of those on public assistance
One of the most troubling aspects of this legislation is that it creates a financial incentive for the contractor (third-party vendor) to remove West Virginians from public assistance programs. According to section C of § 9-10-2, the bill sets up a contractual arrangement where a vendor can only receive payment if it is able to remove West Virginians from public benefits programs and show cost-savings to the state. This could, in turn, result in the use of tactics that are meant to terminate enrollment for people who are eligible for programs.
As discussed above, this concern is warranted based on results from Illinois. In Illinois the private contractor showed "savings" by removing people from the state Medicaid program for failure to respond to mail after 10 days. These Illinois residents were removed from the Medicaid program regardless of actual eligibility and regardless of whether they had actually received the letter. This is not an acceptable practice and this legislation seems to encourage such practices that could be just a backdoor way to cut public benefit rolls without having a public process to change eligibility.
Moving Forward
West Virginia should learn from the Illinois experience  that this approach to eliminating fraud in public assistance programs is not a fiscally sound approach and it could lead to a myriad of untended consequences that impact the well-being of our state's most vulnerable population.
The state should focus its limited resources on more modest proposals to eliminate ineligibility in public assistance programs, such as making it easier easier to communicate with an adequate number of caseworkers.  Moreover, the state should focus resources on initial eligibility determination and adequate screening. And if the state and federal government really want to focus on where large potential savings can be realized, those efforts should aim to curtail fraud from undisciplined contracting and billing with vendors who are in a position to aggregate program benefits.
Tomorrow in the House Chamber
Legislators have begun their consideration of five pieces of legislation that would call upon Congress to hold a Constitutional Convention. The bills are HB 4449, HB 2424, SCR 4, SCR 10 and HCR 36.
Supreme Court Justices and prominent legal scholars on both sides of the aisle agree there is no way to effectively limit the issues a constitutional convention could consider once it's called. The Constitution itself provides no basis for concluding that a convention could be limited to issues specified in resolutions like the ones before our legislature (like campaign finance, balanced budget requirement, for example) and that means the Bill of Rights could be rewritten.
"I certainly would not want a constitutional convention. Whoa! Who knows what would come out of it?" – Supreme Court Justice Antonin Scalia. Watch C-SPAN clip of his statement.
Speak out against these bills and resolutions at a public hearing tomorrow, Saturday, February 20 at 9:00 AM in the WV House Chamber.
Can't attend? Tune in to the West Virginia Channel for live coverage.
Here's more in Tara's op-ed on why this dangerous idea would open up our Constitution to a chaotic and unprecedented process while not solving the problems legislators are trying to tackle.
Solutions for Fixing West Virginia's Budget Woes
To improve the state's fiscal health and its economy, policymakers need to consider additional revenue sources. Otherwise, the state will continue to underinvest in its workforce and diminish its ability to provide long-term economic growth and improve the health of its communities.
This was among the key findings in our annual analysis of the governor's proposed budget.
Again this year, higher education funding is projected to take another hit. Student government associations at West Virginia University and Marshall have come out in opposition.
Here's more in an editorial in the Charleston Gazette-Mail today and here.
Ted spoke with Ashton Marra on the Legislature Today this week about our report.
What is the status of this year's legislation to balance the budget? Here is a quick recap.
Food Banks May Take Brunt of SNAP and TANF Cuts
Lawmakers may expand restrictions to West Virginia's SNAP programs, on top of requiring drug testing on people who receive TANF. Food banks say that would only raise the pressure on already-stretched feeding programs. Here's more from WV Public News Service. Read
The so-called "Welfare Fraud Prevention" Act would use private vendors to verify the eligibility of recipients. In part one of his three-part series, Ted looks at how Illinois' expensive and inefficient program, where vendors essentially received a commission for finding ineligible people, kicked people off assistance needlessly.
Voter ID Law on Way to West Virginia Senate
Despite one of the lowest voter turnout rates in the nation, today the West Virginia House passed the Voter ID law. If West Virginia has a voting problem, it's that not enough people vote. West Virginia ranked second-to-last in voter turnout for the last two presidential elections.
Here's more in Sean's blog post.
National Perspective on West Virginia's Switch to "Right-to-Work"
For a comprehensive look at how West Virginia evolved from a strong union state to a "Right to Work" check out this article in the Washington Post which quotes Delegate Woody Ireland, WV AFL-CIO President Kenny Perdue, Senator Ron Miller and WVCBP Executive Director Ted Boettner. Here's a video that goes along with the news story.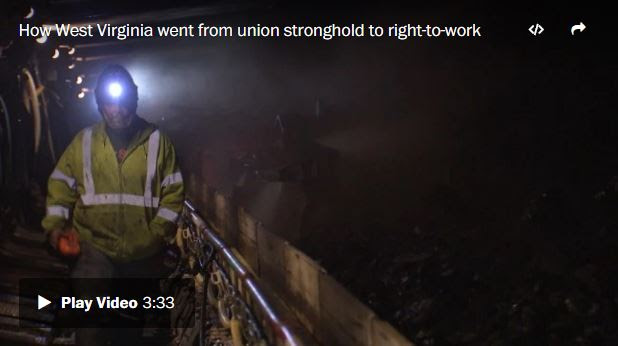 West Virginia legislators are once again moving forward with a Voter ID law. Last week, the House Judiciary Committee passed HB 4013, which would require voters to show a photo ID before voting. Tomorrow the full House is expected to vote on the bill. While the proposed law is less strict than some Voter ID laws in other states, it is still a completely unnecessary law that does far more harm than good.
Voter ID laws are purported to be about stopping voter fraud. But Voter ID laws only stop one type of voter fraud, voter impersonation. And voter impersonation, when one person goes to the polls and votes while pretending to be someone else, is virtually non-existent. An analysis of voter fraud allegations found only 31 credible incidents of voter impersonation in general, primary, special, and municipal elections since 2000. To put that in context, over 1 billion ballots were cast in general and primary elections in that time. So in other words,  voter impersonation occurs 0.0000031% of the time.
West Virginia has had 16 cases of election fraud since 2004, but none of them have been cases of voter impersonation. Instead, all 16 cases were committed by either campaign or election officials. And while these cases involved vote buying, absentee ballot tampering, and ballot box stuffing, none of them would have been prevented by a Voter ID law.
Showing up at the polls to cast one's ballot as another person is a slow, arduous way to steal an election, which is why it almost never happens. Filling out fraudulent absentee ballots and stuffing the ballot box with them, like what a sheriff and county clerk did in Lincoln County in 2010, is  much easier and more common. But a Voter ID law would do nothing to prevent what happened in Lincoln County.
Instead of preventing non-existent voter impersonation, Voter ID laws have the effect of depressing voter turnout. A number of studies have found Voter ID laws generally reduce turnout by about 2 to 3 percent. These laws also unfairly target minorities. Nationwide, about 11% of adults lack a photo ID. However, for African Americans that figure is 25%, and for seniors and young adults, it's 18%. Voter ID laws have a disproportionate impact on these groups, which is why the courts have struck down other Voter ID laws for disenfranchising minority and low-income voters. Other court rulings have made it clear that states must act
aggressively to ensure that no voter is disenfranchised. These requirements create significant costs to any state trying to implement a voter ID law.
If West Virginia has a voting problem, it's that not enough people vote. West Virginia ranked second-to-last in voter turnout for the last two presidential elections, and the 2014 election saw turnout levels fall to a six-decade low.
West Virginia recently moved in the right direction by implementing online voter registration. But instead of continuing to work to encourage more voter participation, lawmakers in West Virginia are moving backwards with more burdens and restrictions. A Voter ID law would be another expensive and harmful solution to a problem that doesn't exist.
***UPDATE***
Many previous studies on the have been ambiguous on the effect on Voter ID laws on turnout. This report from the Government Accountability Office looked at 10 studies, and found no consensus in either direction. 5 of the studies showed no effect, 4 studies showed a decrease in turnout, and 1 study showed an increase in turnout. However, these studies were all hampered by the fact that they looked at elections from before 2008, while many of the strictest Voter ID laws were passed since then.
New research, looking at elections since 2008, when a wave of new Voter ID laws were enacted, does show compelling evidence that Voter ID laws do reduce voter turnout, particularly for minorities. This research, from political scientists at the University of California, San Diego, is one of the most comprehensive reports looking at Voter ID laws and turnout. The authors analyzed election data from 2008 to 2012 from states with and without Voter ID laws, making it one of the first reports to analyze data from a number of states after they enacted Voter ID laws.
The reports finds Voter ID laws significantly reduce turnout among minorities, after controlling for a broad number of factors. Voter ID laws were shown to reduce turnout  by Latinos by 10.3 percentage points and multiracial individuals by 12.8 percentage points in general elections, and reduced turnout for African Americans by 1.6 percentage points in primary elections. Naturalized citizens also saw reduced turnout under Voter ID laws
The report also found that Voter ID laws reduce turnout for both Democrats and Republicans, but Democrats saw a greater decrease in turnout.
The authors conclude that Voter ID laws result in the muting of minorities in the political system, while the influence of white Americans grows, while also creating a clear partisan distortion that favors Republicans and conservatives.
The West Virginia Coal Association released a report this week on the supposed economic impact of its proposed severance tax cut for coal. The Coal Association is pushing a cut in the state severance tax on coal from its current rate of 5% to 2%. I've talked before about how that is a pretty terrible idea that would cost the state hundreds of millions of dollars while doing little to help the coal industry.
The report claims that cutting the severance tax from 5% to 2% would create 829 coal mining and coal transportation jobs, plus an additional 1,035 in indirect and induced jobs. However, there are a number of problems with the report's analysis.
First, the report overemphasizes the role of the severance tax on West Virginia's coal industry. The report noted that West Virginia's severance tax on coal is higher than its surrounding states like Maryland, Ohio, and Pennsylvania, making West Virginia coal uncompetitive. But this ignores the fact that West Virginia's biggest competitors in the coal market aren't Maryland and Ohio, they're western states like Wyoming and Illinois. Since 2001, eastern states like West Virginia have lost significant market share to western states with greater productivity like Wyoming. And Wyoming's market share has grown even with higher taxes than West Virginia.  
The reality is that there are a number of factors that make West Virginia coal uncompetitive, and the severance tax just isn't enough of one to overcome the others. That's why West Virginia University's Bureau of Business and Economic Research found previous proposed tax incentives for coal would have only minor effects on production and employment. As BBER director economist John Deskins put it, "It would be hard for a 5% price change to overcome those logistical systems that these companies have put in place over years and years." It also important to recognize that the severance tax is highly exportable, meaning that is mostly paid by out-of-state producers and customers. 
Next, the report grossly overestimates the elasticity of coal production based on the severance tax. The report's estimates employment, income, and production growth are based on the assumption that a 3% cut in the severance tax rate would result in a 3% increase in production. But this estimate is not based on any empirical evidence, with nothing in the report supporting it, and is wildly different from other, evidence-based estimates.
For example, the Wyoming Legislature attempted to answer the same question in the early 2000s: how much would a severance tax cut increase production? Wyoming took a much more rigorous approach, that showed that a 2 percentage point cut in the severance tax rate (from 7% to 5%) would increase production by only 0.47%, while costing the state millions. Another study, published in the National Journal of Agricultural and Resource Economics found similar results for Pennsylvania, this time finding that increasing the severance tax would have little effect on employment and production.
The report from the Coal Association also neglects to measure any impact of the revenue lost from the severance tax cut. In FY 2015, cutting the severance tax from 5% to 2% would have cost the state about $220 million. A revenue loss of that magnitude would result in more spending cuts at the state level, offsetting any economic gain. Spending cuts of that magnitude at the state level would likely lead to job losses in both the public and private sector. For example, based on the previously linked report, roughly $50,000 in tax revenue supports 1 public sector job. If revenue falls by $220 million, that would equal a loss of 4,400 jobs, more than twice as many as the severance tax cut is alleged to create.
There's little evidence to support a severance tax cut for coal as a tool to increase production and employment. Overall, the state has little ability to influence the forces affecting the coal industry, be they competition from natural gas, environmental regulations, productivity, or transportation issues. The numbers in the Coal Association's report are entirely unrealistic, which is probably why, despite their report, they don't deny that a severance tax cut probably won't help.
This Week at the Capitol: Session at Half-Way Mark
"Right-to-Work" and Prevailing Wage
On Thursday, Governor Tomblin vetoed both the repeal of the prevailing wage and the Right To Work bill. Today, both the House and Senate voted to override both vetoes. Both measures now become law.
Drug Testing
On Tuesday, the Senate passed SB 6 to establish a three-year pilot program to drug test TANF recipients. The bill has passed the House Health and Human Resources Committee and is now under consideration by the House Judiciary Committee. Similar measures passed in other states have proven to be costly and ineffective. Here's more in Sean's blog post and the Bluefield Daily Telegraph.
Voter ID Requirements
Yesterday, the House Judiciary Committee passed HB 4013 which would require voters to present a photo ID in order to cast a ballot. This law has failed to pass in previous legislative sessions. While it is intended to eliminate voter fraud, the larger problem with voting in West Virginia is low participation. Here's more on this "solution waiting for a problem."
Balanced Budget Amendment & U.S. Constitutional Convention
There have been five pieces of legislation introduced calling upon Congress to hold a Constitutional Convention, HB 4449, HB 2424, SCR 4, SCR 10 and HCR 36. These resolutions and bills range from a call to overturn Citizens United to a call creating a Compact of States for a Balanced Budget. While none of these pieces of legislation has moved so far, this week House Judiciary Chair Delegate Shott created a subcommittee to review them and decide on a version for the full committee to consider.
None of the versions offers guidance for opening up the U.S. Constitution to a convention. Should any of these versions pass it could create a free-for-all Constitutional Convention opening up the Constitution to any amendments, beyond the (mis)intended purpose of balancing the federal budget.
Here is more information from the Heritage Foundation and the Center on Budget and Policy Priorities. And more here.
Confronting the Fiscal Gap
Next week, the WVCBP will release its annual report on the governor's proposed budget. Next year's budget must tackle a $466 million shortfall and the governor plans to do that by dipping into the state's Rainy Day Fund, cutting the budgets of state agencies and raising taxes on tobacco and telecommunications.
This will still leave the state with many unmet needs that require additional revenue in order to improve the state's long-term growth and fiscal health.
Among the hardest hit programs in recent years has been the state's colleges and universities whose funding has been cut over $100 million since 2008 (adjusting for inflation). In response, tuition at West Virginia's four-year colleges has grown by over 32 percent, shifting costs to students and forcing higher education institutions to cut programs and staffing. Here's more in the Daily Atheneaum.
To Create Jobs, Invest at Home
Continued from last week….If legislators want to create jobs, they should invest in West Virginia's schools and infrastructure, instead of cutting taxes to attract out-of-state companies. A report released last week by the Center on Budget and Policy shows that, from 1995 to 2013, about 87 percent of private-sector job creation in a typical state was "home grown," coming from startups, the expansion of employment at existing establishments, and the creation of new in-state locations by businesses already headquartered in the state. In contrast, jobs that move into one state from another typically represent only 1 to 4 percent of total job creation each year.
Read more in the CBPP's report and in Sean's blog post.

February 20: Early Bird Deadline to Register for Try This Conference
Are you working for a healthier West Virginia? This conference is for you!
Meet people from all over the state who are doing great things in their communities. Trade ideas – Join forces – Get inspired – Learn – Plan next steps – Help build a statewide movement!
Forty workshops! From farmers markets and school gardens to bicycling and running programs to school-based health centers and parks, we've got great workshop leaders who really know their stuff! (2016 list coming in April.)
Affordable cost! SCHOLARSHIPS AVAILABLE!
Mini-grant program. If you come to the conference, you can get grants to help make your healthier-community idea happen!
Team building! Come with others from your community so you can brainstorm and plan in a stimulating, idea-filled atmosphere.
For more details, go to the Try This Conference web page.