Recap of the 2016 Legislative Session
As the dust settles from the 2016 Legislative Session, here's a look at some of the bills that were passed, and some that weren't.
Here are some highlights:
The legislature passed, and the governor signed, HB 4013 that requires voters to present an ID to vote. While voter ID laws have been shown to do more to suppress turnout than to stop cases of voter impersonation, the bill that emerged was quite watered down. It also established a "Motor Voter" program where anyone getting a driver's license would automatically be registered to vote.
On Friday, the House passed HCR 36 which calls for opening up the U.S. Constitution for the purpose of passing a Balanced Budget Amendment. On Saturday, the last day of the session, the Senate took up HCR 36 and passed it as well. This makes West Virginia the 28th state to pass such a resolution. 34 states must take similar action in order for Congress to be petitioned to call an Article V Convention.
Once a convention occurs, 38 states would have to approve any amendments passed. Here's more on this dangerous resolution.
Thank you to the staff of the ACLU-WV and to Betty Rivard for all of your help with outreach and education on this important issue.
For much more on what bills made it through the session, check out Sean's blog post for a full recap.
Budget Bumped to Special Session
As per tradition, legislators met this week, immediately following the end of the regular session, to work out differences between the budget bills passed by the House and Senate. Legislators were not able to agree on a budget bill and it is expected that Governor Tomblin will call a special session some time in April. The fiscal year that the budget would cover begins July 1.
On Tuesday, Governor Tomblin's office released revised revenue figures that show the state's budget gap has grown even larger than previous projections. Revenues are down an additional $92 million, for a total of $239 million. Since the governor has vowed to veto any budget bill that takes money from the Rainy Day Fund, and the House of Delegates has refused to consider any tax increases, this could be a very interesting special session. Here's much more in Ted's blog post including some much-needed solutions to this worsening situation.

Federal Assistance for Coalfield Communities
This week the Obama Administration announced $65.8 million in funding is available from its Partnerships for Opportunity and Workforce and Economic Revitalization (POWER) program.
The announcement came from the Appalachian Regional Commission (ARC) and the U.S. Economic Development Administration (EDA).
According to the ARC, the goal is "to develop new strategies for economic growth and worker advancement for communities that have historically relied on the coal economy for economic stability."
Funds are available for:
Developing projects that diversify local and regional economies, create jobs in new and/or existing industries, attract new sources of job-creating investment and provide a range of workforce services and skills training;
Building partnerships to attract and invest in the economic future of coal-impacted communities;
Increasing capacity and other technical assistance fostering long term economic growth and opportunity in coal-impacted communities.
For more information, or to apply, go here.
RECLAIM Act Aims to Help Coalfields
Late last year, Representative Evan Jenkins cosponsored the RECLAIM Act and this week he posted this column on his website to explain what the Act would do and how this bipartisan bill would help struggling coalfield families.
The RECLAIM Act: Revitalizing the Economy of Coal Communities by Leveraging Local Activities and Investing More, is sponsored by by Congressmen Hal Rogers (R-Ky.), Matt Cartwright (D-Pa.), Evan Jenkins (R-WV.), Don Beyer (D-Va.), and Morgan Griffith (R-Va.).
It would release $1 billion, $200 million a year for five years, from the Abandoned Mine Lands fund to assist Appalachian communities hard hit by job losses in the coal industry.
Spread the Word: Apply Now for SPI 2016!
Join us for the first-ever Summer Policy Institute this July at West Virginia Wesleyan College!
Applications are due April 1, 2016.
For more information, please call Tara at 304-720-8682 or go here.
On Tuesday, Governor Tomblin revised his estimates for the FY 2017 General Revenue Fund Budget. Since the legislature failed to pass the state budget during the regular session, the governor is expected to call a special session sometime this Spring to pass a budget for FY 2017.
Altogether, the FY 2017 revised revenue estimates for the state's General Revenue Fund decrease revenues by about $239 million for FY 2017, or from $4.33 billion to about $4.09 billion. About two-thirds, or $147 million, of the lower revenue estimates was due to the legislature's failure to adopt several of the governor's proposed revenue measures. These included:
Increasing tobacco products taxes by $78 million: This legislation included increasing the cigarette tax from 55 cents to $1 per pack ($71.5 million), increasing the wholesale price tax on other tobacco products from 7% to 12% ($4.7 million), and a 7.5 cent per milliliter tax on electronic cigarettes ($1.8 million).
Enacting a sales tax on telecommunication services ($60 million)
Eliminating sales and use tax exemption for highways purchases for one year ($9.0 million): The governor's

bill

would have temporarily suspended the annual transfer of sales tax revenue to the State Road Fund, based on a formula tied to the value of contract purchases in FY2016, and moved the revenue to the General Revenue Fund. 
According to the governor, the remaining $92.4 million in decreased revenue for FY 2017 was due to "downward pressure on energy prices, and less economic growth than originally forecast for both the national and state economy."
The downward slide in estimated personal income tax collections is expected to be $20.5 million below original estimates, while the estimated decline in severance taxes is expected to be $17.6 million below the governor's original estimates. Most surprising is the large drop in expected corporate income taxes, declining by over 17 percent or $28.6 million. 
At $137.5 million, the state's corporate net income and business franchise collections will be at an all-time low in FY 2017 if the revised estimates are realized. While this is largely due to the elimination of the business franchise tax and the reduction of the corporate net income tax rate from 9% to 6.5% in 2015, it highlights that the tax cuts failed to spur any supply-side effects and that these business tax cuts have made it much harder to fund crucial programs and services. At its peak in 2008 (the same fiscal year that the tax reduction went into effect), these two taxes accounted for $388 million in General Revenue Funds. In 1990, they accounted for over 12 percent of the General Revenue Fund budget compared to less than four percent today.
When the legislature reconvenes in early Spring to pass the state's FY 2017 budget, it is clear that lawmakers will need to adopt additional revenues to avoid more harmful cuts in essential services and programs. As we highlighted in our recent analysis of the state's budget this year, there are a number of avenues lawmakers could take to raise additional revenue in addition to what the governor is proposing, including expanding the sales tax to more personal services, modernizing the state's personal income tax, adopting a higher tax on natural gas liquids, and scaling back or eliminating lottery funds subsidies.
When looking at revenue options, lawmakers should also consider taking a balanced approach that considers how tax increases would impact low- and middle-income families who already pay a higher share of their income in state and local taxes than the state's wealthiest residents. This could include pairing any sales tax or sin tax increase with a refundable state Earned Income Tax Credit that would not only help balance out the negative impact of these regressive taxes but also help boost labor force participation, reduce poverty, and lead to better social and economic outcomes.
With the legislature adjourned sine die (or without assigning a day for further meeting for those needing all state business to be conducted in English,) now's a good time to look back at some of the bills made into law this past session. Here's a quick recap of some of the major bills passed by the legislature, as well as some smaller bills with a fiscal impact. Notable exceptions to the list include the budget, which the legislature adjourned without passing, which means the governor will have to call them back into a special session to work on the budget.
The Latest from the Golden Dome
Several bills of interest are still under consideration as the 2016 West Virginia Legislative Session enters its final hours.
Much talk this session has surrounded how to tackle the huge gap in the state budget. While the Senate has passed its budget bill, it is far different from the one passed today by the House. So next week should be interesting as both chambers work to hammer out their differences. Here's more in Sean's blog post.
All revenue-increasing bills appear dead for the regular session including SB 555. This bill would have raised money for state highways by increasing DMV fees and the state's sales tax.
SB 6, requiring drug testing of welfare recipients passed the House this week, and has been signed by Governor Tomblin.
Today the House is discussing HCR 36 which would call for opening up the U.S. Constitution for the purpose of passing a Balanced Budget Amendment. With the session ending at midnight tomorrow, it is unclear if this resolution has time to pass and then makes its way through the Senate. We will let you know in our full recap of the session next Friday. Here's a Charleston Daily Mail editorial asking legislators to take time to study this important issue further.
SB 705, which would have cut severance taxes on coal and natural gas, also appears dead this session. It passed the Senate but was not taken up by the House Finance Committee. The bill would have cost the state about $159 million/year and local governments about $11.6 million/year.
Today, the Senate passed HB 4013 which would require voters to present an ID at the polls. The amended bill now goes back to the House. Three years ago today, we released West Virginia Photo Voter ID Law: An Expensive Solution Looking For a Problem which explains how this bill is more about voter suppression than addressing a nonexistent voter impersonation problem.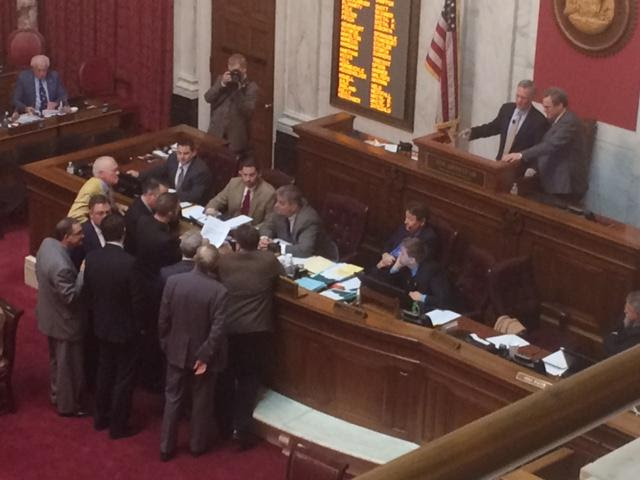 Delegates discuss amendment to Constitutional Convention resolution on West Virginia House Floor, March 11, 2016. Photo by Betty Rivard.
Spread the Word: Apply Now for SPI 2016!
Join us for the first-ever Summer Policy Institute this July at West Virginia Wesleyan College!
Applications are due April 1, 2016.
For more information, please call Tara at 304-720-8682 or go here.
With Governor Tomblin's proclamation extending the legislative session for three days to work on the budget, it is highly unlikely the FY 2017 will be passed before the end of the regular session on Saturday. Both the House and the Senate have moved their versions of the budget bill, with the Senate passing its version yesterday, and the House likely to pass its version today.
The House and the Senate budget bills have some major differences that probably won't be ironed out before the end of the session, making an extension necessary. The chief difference between the two goes back to Governor Tomblin's original proposal. The Senate's budget includes a number of new tax revenues, including the tobacco tax, that were part of the governor's proposal, but were never passed. That means the Senate's budget would only be balanced if those new revenue bills were also passed with it.
The House's budget does not include those revenues, and instead is balanced by borrowing about $30 million from the Rainy Day Fund and sweeping $78 million from various agency accounts. That revenue is then transferred to the Medicaid Trust Fund, which lowers the amount of General Revenue appropriations for Medicaid, allowing the base budget to be "balanced." The House budget also contains additional cuts above the governor's proposed cuts.
Both the House and Senate Budgets can be compared line-by-line to the governor's proposal with these spreadsheets:
Why 10:00 AM Brunch is a Good Thing
This session, the State Senate unanimously passed Senate Bill 298, which amends the state's current blue law by allowing restaurants, private clubs, and wineries to begin selling alcohol at 10:00 AM on Sundays, three hours before the current earliest time allowed, 1:00 PM. More commonly referred to as the "Brunch Bill," this bill has support from both sides in the Senate and in the House.
While alcohol consumption itself is not may not be a priority for West Virginia, the state of our economy is. As much as this is a "drinking" bill, it is just as much a jobs bill. Think about it: on a Sunday, restaurants can begin alcohol sales at 10:00 AM, meaning more patrons; the fact that they can sell alcohol means more revenue for the restaurants; by earning more revenue, they will be able to hire more staff, meaning more employment and a higher Gross Domestic Product (GDP) for the state.
However, it seems that leadership in the House does not see the importance of the bill. House Speaker Tim Armstead (R-Kanawha) has stated to the media that this bill will not be a priority for his chamber. Why not? In 2014, the current majorities in the legislature campaigned on a promise that they could fix the jobs crisis in our state better than the previous majorities had. Well, if that was their campaign promise, then why would they not hold a vote on this bill? The guaranteed benefits of this bill becoming law are spelled out in the paragraph above. In these final days of legislative session, I would urge the Speaker to reconsider his stance on this bill.
Why West Virginia Needs EITC
Two weeks ago, Delegate Matt Rohrbach (R-Cabell) introduced House Bill 4645. This bill would create an Earned Income Tax Credit (EITC) against personal income tax on the state level. Essentially, an EITC rewards those who work but earn wages that are not high enough to fully support their families. Specifically, this bill would allow taxpayers to "credit against the tax imposed… an amount equal to fifteen percent of the credit the taxpayer is allowed to claim as a credit…" (HB 4645).
My colleague here at the West Virginia Center on Budget and Policy, Seth Distefano, has been advocating tirelessly for a state-level EITC this session. In a presentation to the Senate Economic Development Committee on January 20, he explained that the EITC should have bipartisan support for two key reasons.
First, many other states that have state EITCs—18 of 26—fund the tax credits with funds from federal grants for Temporary Assistance to Needy Families, or TANF (Distefano, 2016). This session, leadership in both houses has emphasized a need to cut TANF spending because the money could be put to better use elsewhere. What better use is there for these funds than rewarding West Virginians who work? If we begin using TANF funds to finance an EITC, eventually the need for TANF itself will diminish because everyone will be earning enough to live and support their families.
Plain and simple, an EITC rewards work. A person must be employed to be eligible. In this case, I think that both sides of the aisle win. The majority party in the Legislature will see an increase in employment and a decrease in government assistance; and the minority party will put people back to work through a social program that has proven to be successful in over half of the states.
By Dillon Neace, Spring Research Associate
With One Week to Go, Important Bills Still Under Consideration
Today the House Finance Committee ended any hopes of raising the state's tobacco tax this session. The Senate had passed a $1/pack increase but after reducing it back to the governor's proposed 45-cents/pack, the House Finance Committee failed to pass the bill. Some delegates wanted no increase while others believed it was too low to curb the state's smoking rate. Here's more in today's Charleston Gazette-Mail.
The Senate also passed SB 555 this week which would raise much-needed funding for the state's roads. Revenue would come from an increase in many DMV fees as well as bumping up the state's sales tax from 6% to 7%. The bill faces an uncertain future in the House where it is being reviewed by a House Finance subcommittee. Here's more on the bill's specifics and its pros and cons. And here's more from the Charleston Gazette-Mail and WDTV.
The House held a public hearing today on SB 6 which would require drug testing of welfare recipients. Every speaker at the hearing spoke out against the bill. WVCBP Senior Fiscal Policy Analyst Sean O'Leary said "proposals like SB 6 are based on stereotypes and anecdotes about prevalence of substance abuse among recipients – not evidence. Reports on drug testing policies from Arizona, Florida, Missouri, Utah, Oklahoma, Kansas and Tennessee have identified only a handful of substance abusers out of tens of thousands of cash assistance recipients." Here's more on today's public hearing from West Virginia Metro News and in the Beckley Register-Herald.
Legislation to add West Virginia to the list of states calling for a constitutional convention is currently under review in the House after passing the Senate last week. For a great synopsis of why this idea is so dangerous, read this week's op-ed in the State Journal and this week's editorial in the Charleston Gazette-Mail.
A bill to cut severance taxes on coal and natural gas, SB 705, originated in the Senate Finance Committee this week, was passed by the full Senate and now awaits action by the House Finance Committee. The total loss for the state if SB 705 were to be fully enacted would be about $159 million/year while local governments would lose about $11.6 million/year. Here's more. 
State's Job Losses Push It Into Recession Territory
West Virginia has joined Alaska, North Dakota and Wyoming in a group of energy-producing states that has slipped into recession. The trigger has been job losses caused by the slump in energy prices. 
Response to Water Rate Hike Event on March 8
As we reported last week, the West Virginia Public Service Commission approved a 15.1% rate hike for West Virginia American Water Company, giving West Virginia the 4th highest water rate in the nation.
To learn more about what this all means to you and what you can do about it, join others on Monday, March 8 (see below). RSVP here.
Free Event Coming to the Eastern Panhandle!

TPP Has Meant Jobs Losses in Every State
The US trade deficit with Trans-Pacific Partnership (TPP) countries has cost West Virginia an estimated 8,400 jobs in 2015.
To blame is the missing piece of the TPP deal: penalties against currency manipulation. Overall, the U.S. deficit with TPP countries translated into 2 million U.S. jobs lost, more than half (1.1 million) of which were in manufacturing, with jobs losses in every state.
According to the Economic Policy Institute, without provisions against currency manipulation, the TPP could well follow other trade agreements and leave even greater U.S. trade deficits in its wake. Here's the full report.
Congratulations, Tara!
WVCBP Policy Outreach Coordinator Tara Martinez has been appointed Chair of the State Advisory Committee to the U.S. Commission on Civil Rights. Great work, Tara!

Support for a Tobacco Tax Increase
While HB 4564 would have increased the tax on a pack of cigarettes to $1/per pack in an effort to reallocate revenues to fund Public Employees Insurance Agency (PEIA), it looks like the bill will not survive the 2016 Legislative Session.
This increase in the tobacco tax would have been effective for two key reasons:
First, many gas stations across the state report tobacco sales as their highest grossing product. With sales already higher than many other states, allocating new taxes from these sales to fund PEIA just makes sense. The taxes are there, we just need to increase and reallocate.
Second, I would first like to make clear that we take addiction very seriously; anyone who feels addicted should seek help immediately. Having said that, social and occasional smokers usually budget out money for tobacco products. If this newly proposed tax is levied, the abovementioned smokers, in my opinion, would simply budget out one more dollar; this one dollar would contribute to further funding PEIA.
To end on a personal note, I myself am an occasional smoker. If this tax were levied, I would still purchase the same amount of tobacco products that I do now-usually two packs per month. In fact, I wouldn't even see it as a tax; I would see it as a public service.
-Dillon Neace, Spring Research Associate
Remember to Eat Healthy!
Even when times are stressful, it's important to remember to eat healthy foods. Ted shared his own personal salad recipe with April Hamilton and the Charleston Gazette-Mail this week. Bon appetit!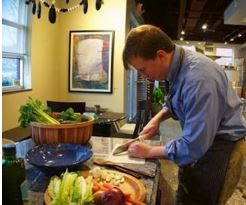 There have been a number of tax proposals this legislative session, the two that have gained the most traction are the proposals to increase the sales tax from 6% to 7% for highway funding, and increasing the tobacco tax from $0.55 to $1.55 per pack of cigarettes. 
While the state needs revenue both for fixing its infrastructure and balancing the budget, both the tax proposals would make the state's tax system more regressive, since both fall more heavily on low- and moderate-income West Virginians.
Overall, the state's tax system is mildly regressive, with low- and moderate-income West Virginians paying a higher share of their income in state and local taxes than higher-income West Virginians. According to the Institute on Taxation and Economic Policy (ITEP), those in the lowest 20% of family income  in the state (below $19,000) pay an average of 8.7% of their income in state and local taxes, while those in the top 1% of family income (more than $333,000) pay only 6.5%. 
The sales tax is the state's most regressive tax, with the lowest 20% paying 6.4% of their income in sales taxes, and the top 1% paying only 1.0%. In comparison the state's income tax is progressive, with the share of income paid in income taxes rising with income levels, while the state's property tax is relatively flat.
Raising the sales tax from 6% to 7% would add to the regressivity of West Virginia's tax system. According to ITEP's analysis, those in the lowest 20% of individual and family income would see their taxes as a share of income increase by 0.6% and those in the middle income would see an increase of 0.5%, compared to just 0.1% for the top 1%. The sales tax increase would increase revenue by an estimated $220.7 million.
The same is true of the proposed tobacco tax increase. On average, those in the lowest 20% of individual and family income would see their taxes as a share of income increase by 0.9% and those in the middle income would see an increase of 0.3%, compared to just a 0.02% increase for the top 1%. The tobacco tax increase would increase revenue by an estimated $105.7 million.
Combined, the two taxes would increase taxes as a share of individual and family income by 1.4% for the lowest 20%, 0.7% for the middle 20%, and 0.1% for the top 1%, while increasing revenue by $326.4 million.
While fixing our roads and balancing the budget are important, and both need new revenue to do so, the current proposals ask more of those who have less. State lawmakers could offset the regressivity of these tax proposals by incorporating a State Earned Income Tax Credit into them, which, in addition to making our tax system more fair, would also encourage work and reduce poverty.
Earlier this week, a bill began moving to increase revenue for the State Road Fund. Senate Bill 555  includes a number of provisions, some included in the Governor's Blue Ribbon Commission report, that raise revenue for road work in West Virginia. The bill is on 3rd reading today.
In its original form, SB 555 increased the gas tax by $0.03, but only when the price of gas fell below $2 per gallon. According to the bill's fiscal note, this would increase revenue for the state Road Fund by $17 million in FY 2017, and $40 million in Fy 2018.
The bill was then amended to include an increase in the sales tax from 6% to 7%, with the  revenue from the 1% increase dedicated to highways. While the amendment was not included in the fiscal note, the increase in sales tax is reported to raise about $200 million/year. 
The bill also includes changes to several DMV fees and other taxes. These include:
Reduces the sales tax on motor vehicle purchases from 5% to 4%.
Increases the fee for copies of DMV documents from $1 to $3.
Increases the fee for requesting vehicle information registration from $1 to $7.
Decreases the tax on certifying a vehicle title from 5% to 4%.
Increases the fee for original certificate of title from $5 to $40.
Increases the fee for duplicate certificates of title from $5 to $35.
Increases the fee for certificate of retitle from $5 to $40.
Adds a $10 fee for expedited processing for certificate of title application.
Increases the fee for a new certificate of title after transferring a title from $5 to $15.
Increases the exchange for for plates from $5 to $15.
Increases the fee for cosmetic, salvage, and total loss titles from $5 to $40.
Increases the fee for recording of liens from $5 to $20.
Increases the registration fee for Class A vehicles from $28.50 to $49.
Increases the fee to transfer a vehicle registration from $5 to $15.
Increases the fee for duplicate plates, registration cards, and title certificates from $5 to $15.
Increases the fee for non-driver's license ID cards from $2.50/year to $8/year.
Increases the fee for intermediate driver's licenses from $2.50/year to $6.50/year.
Increases the fee for Class E driver's licenses from $2.50/year to $8/year.
Increases the fee for Class D driver's licenses from $6.25/year to $6.50/year.
Increases the fee for a duplicate driver's license from $5 to $20.
Increases the fee for driving records from $5 to $25.
 Altogether, the bill's provisions are expected to increase revenue for the State Road Fund by $290 million/year.
After hearing from the coal industry about their desire for cut in the severance tax, SB 705 was quickly introduced and sped through the Senate Finance Committee on Monday, and is already on 2nd reading in the Senate today. In its current form, the bill cuts the severance tax on coal from 5% to 4% starting in FY 2019, and then down to 3% starting in FY 2020. We've talked before about how a cut in the severance tax is unlikely to benefit the industry much, and certainly not to the extent that they claim. Now that there is an actual bill, we can make an estimate of its fiscal impact.
The bill's severance tax cut is phased in over 2 years, dropping to 4% in FY 2019 and to 3% in FY 2020, for a total rate reduction of 2 percentage points. It's important to note that the state already has reduced rates for thin seam coal of 2% and 1%, depending on seam thickness. SB 750 does not change that, so the rate reduction would only apply to coal produced in seams thicker than 45 inches. In FY 2017, the thin seam rate reduction was worth $40 million. Also important to note is that the state's 5% severance tax rate is technically two rates, a 4.65% rate for the state and a 0.35% rate for local governments. SB 750 keeps the local rate the same, so the bill actually lowers the state rate from 4.65% to 2.65% over two years.
With all of that being said, let's try to estimate the fiscal impact of the bill. The state's share coal severance tax revenue is projected to be about $206 million for FY 2019 and $213 million for FY 2020. 
SB 750 would reduce the state's share of coal severance tax revenue by about $53 million in FY 2019, and $109 million in FY 2020 and about $110 million/year after that. And while the 0.35% local rate is unaffected, coal producing counties also receive an additional distribution of 5% of total coal severance tax revenue. Lowering overall revenue by $110 million would cost those counties $5.5 million in lost severance tax distributions.
Of course, this analysis assumes that coal production would be unaffected by the tax decrease, but that's a pretty safe assumption. Multiple studies have show coal production is largely unaffected by changes in severance tax rates, with tax cuts causing large declines in revenue far outweighing the only minor increases in production. And, as we've pointed out before, West Virginia already has lower taxes than our main competition in coal production, and tax cuts will do little to change our productivity challenges and the threat to coal from low natural gas prices.
So while the coal tax cut will do little to help the industry, the revenue lost could do some real harm, West Virginia is in the midst of a substantial budget crisis, and has been neglecting investment in areas like education, infrastructure, and our workforce for years. Year after year of budget cuts have taken their toll, and more tax cuts will only make future cuts more likely. And while the Coal Association report (dubiously) claims that a severance tax cut will create 1,800 jobs, as I've pointed before, the spending cuts the revenue loss would likely force would offset any economic gain. Large spending cuts at the state level would likely lead to job losses in both the public and private sector. For example, based on the previously linked report, roughly $50,000 in tax revenue supports 1 public sector job. If revenue falls by $110 million, that would equal a loss of 2,200 jobs, more than the severance tax cut is alleged to create.
***UPDATE***
Just minutes after this post was published, the Senate amended SB 705 to include natural gas in the tax break along with coal, and the tax break would start one year earlier in FY 2018. Total natural gas severance tax revenue (both state and local shares) is projected to be $104.3 million in FY 2018 and $109.3 million in FY 2019.
SB 750 would reduce total natural gas severance tax revenue by $23.7 million in FY 2018 and $49.7 million in FY 2019 and over $61 million/year by FY 2021. Of that reduction, local governments would lose $6.1 million/year and the state would lose $54.9 million/year.
With the new start date, SB 705 would reduce state coal revenue by $51.5 million in FY 2018, and $105.6 million in FY 2019, and about $110 million a year after that. Counties would lose $5.5 million/year.
The total loss for the state when fully enacted would be about $159 million/year while local governments would lose about $11.6 million/year.
***UPDATED 3/10/16***
While the bill the cut the severance tax on coal has been turned into a study resolution, much to the chagrin of some in the coal industry, Ted and I decided to take a close look at the Coal Association's study on the benefits of the severance tax cut. One of the most egregious omissions from the study was a lack of any revenue estimate, as well as not evidence to support the claim that a three-percent cut in the severance tax would result in a three-percent increase in production. But even taking that assumption at face value, a three-percent cut in the severance tax would still costs hundreds of millions of dollars, even with a three-percent increase in production. 
Estimated Impact of Reduction of Coal Severance Tax from 5% to 2% using WV Coal Association Study*
Estimated Coal Production at 5% Severance Tax: 90 million tons
Estimated Coal Production at 2% Severance Tax (3% Increase in Production): 92.7 million tons
Estimated price of coal in WV: $50 per ton
Estimated price of coal in WV if Severance Tax Reduction (5 to 2%) savings lower price: $49 per ton
Current Law estimated coal production value in WV: $4.50 billion
Reduced severance tax estimated coal production value in WV: $4.54 billion
Estimated coal severance tax collections under current law (5%): $225 million
Estimated coal severance tax collections under reduced severance tax rate (2%): $90.8 million
Estimated lost revenue under 2% coal severance tax: -$134 million
**At $50,000 per 1 job, $134 million in state and local expenditures = 2,680 jobs
WV Coal Association estimate of job gains from severance tax reduction = 1,864 jobs
Estimated net jobs from severance tax reduction = -816 jobs
*This simple exercise is not definitive but is meant to provide a simple explanation of how even using the findings contained in the WV Coal Association study are fundamentally flawed since it fails to consider how severance tax reductions would impact state and local expenditures. The above assumes 90 million tons of coal production in a given year in West Virginia with an average price of $50 per ton. The current spot price for steam coal in West Virginia is $42.25 per ton in Central Appalachia and $48.60 per ton in Northern Appalachia. http://www.eia.gov/coal/markets/
The average price of US metallurgical coal exports was $85.65 per ton between July and September of 2015. http://www.eia.gov/coal/production/quarterly/pdf/t12p01p1.pdf
It is unclear what share of total coal production in West Virginia is metallurgical coal, but a large share of it is produced in thin-seams which already receive a reduced severance tax rate of 2 and 1 percent. WV Coal Association study: http://www.wvcoal.com/latest/wv-coal-tax-relief-economic-impact.html
**The multiplier used ($50,000 in state expenditures per job) is a conservative estimate based on several studies. A 2009 study by the Economic Policy Institute estimates that each direct public sector job cost about $70,000 with an indirect multiplier of 0.5% per private sector jobs, which is about $46,000, cost per job. http://www.epi.org/publication/bp252/
A study by Harvard University economics professor Daniel Shoag finds that $35,000 of state spending generates one job. http://scholar.harvard.edu/files/shoag/files/impact_of_government_spending_shocks_01.pdf?m=1455221651
In a more recent study by Shoag, he finds that during an economic recession "every additional $22,011 of spending contemporaneously creates one job." https://www.aeaweb.org/aea/2013conference/program/retrieve.php?pdfid=436