Families who struggle to pay for expenses put most of their money right back into the economy when they buy necessities. A West Virginia Earned Income Tax Credit (EITC) would give these families an additional boost at tax time and generate millions of dollars in local West Virginia communities.
This week the Charleston Gazette editorial page endorsed this important policy already in effect in 26 other states. You can learn more about how it would impact your local legislative district at www.investinwvfamilies.org.
Read more in this piece by State EITC Campaign Coordinator Seth DiStefano.

Please Add Your Voice Today to Keep Payday Loans Out of West Virginia
The Consumer Financial Protection Bureau (CFPB) has proposed rules that, if strengthened, could rein in the worst abuses of payday and car title lending. Thankfully, West Virginia protects against abusive payday and car title loans, but the CFPB still needs to hear from you.
Take this quick action to add your voice now to stop the debt trap – please add a personal note if payday lending has affected you or someone you know!
Payday loans notoriously carry 300+% APR (annual percentage rate). Strategically located in low-income neighborhoods, payday lenders intentionally trap borrowers in debt that they cannot escape. The average payday borrower is trapped by ten transactions in a year.
Though payday lenders are not allowed in our state, we still need a strong national rule. Payday lenders will use a weak rule to seek a green light to come back into West Virginia.
Support a strong rule to stop these predatory practices.
Want to know more about how much better off West Virginia is without payday lending? Check out this new report by the Center for Responsible Lending. Every year, residents in states that ban payday lending save over $2 billion in fees. West Virginia alone saves over $48 million annually!
What Does West Virginia's Budget Crisis Mean to You?
This fall, WVCBP staff will travel across the state to talk to people about what the ongoing budget crisis means in people's every-day lives.
Next month, Executive Director Ted Boettner will kick-off our speaker series at the West Virginia University Campus on Tuesday, September 6 at 2:00 PM at the Mountainlair.
Contact us for more information. Visit our Events page for future presentations. Thanks!
WVCBP Board President Joins National Health Impact Project
Renate Pore, WVCBP board president, has been invited to join a community advisory panel to provide guidance and strategic input to projects and investments in southern and Appalachian states. Renate was selected as a community-based leader with expertise in, and a commitment to, advancing health equity in the region.
The Health Impact Project, a collaboration of the Robert Wood Johnson Foundation and The Pew Charitable Trusts, is a national initiative designed to promote the use of health impact assessments (HIAs) as a decision-making tool for policymakers.
Congratulations, Renate!
Happy Women's Equality Day!
Today, we mark nearly a century of celebrating the 19th amendment, granting women the right to vote. We should never let go of that legacy, we should never become complacent with that hard-won gift.
Today, we celebrate this right, but in November, please do not forget to exercise it. My five-year-old daughter, Tova, notices everything, and has gone with me to vote in municipal, state, and national elections. She knows that when the polls are open we go vote with Mommy. It is my job to teach her this practice as a good citizen, and the history, because unless we teach them, they will assume women could always vote.
We should always teach our daughters, and sons, about the fight and the victory, but most importantly about exercising the right to walk into a voting booth and make change as a citizen.
Honor those who fought for this right by making sure you are registered to participate in the November election. Register online here.
#RememberInNovember
~ Tara Martinez, WVCBP Policy Outreach Coordinator
Tova Martinez Walking the Halls of Her Capitol
Decriminalizing marijuana could save West Virginia millions of dollars in its corrections budget and legalizing medical marijuana could provide an alternative to highly addictive opioid painkillers. These are among the findings of Modernizing West Virginia's Marijuana Laws: Potential Benefits of Decriminalization, Medical Marijuana and Legalization, a report released yesterday and written by Tara Holmes, WVCBP Summer Research Associate.
As of 2016, four states and the District of Columbia have legalized the recreational use of marijuana for adults, 25 states (and DC) allow for marijuana to be used for medical purposes, and 21 states have decriminalized possession of small amounts of marijuana.
With several states considering ballot measures this November and public support for legalization rapidly growing (53% of Americans support legalization) among all age groups, the number of states taking action to undo restrictions on marijuana is likely to grow. While most states have taken at least one step toward modernizing their marijuana laws, West Virginia has not. However, bi-partisan legislation has been introduced in West Virginia over the last several years to legalize medical marijuana and tax marijuana for retail sales to adults. A 2013 poll found that a majority of West Virginians supports decriminalizing marijuana and legalizing it for medical use, while 46 percent supported regulating it like alcohol.
Read more in this week's Charleston Gazette-Mail and the State Journal.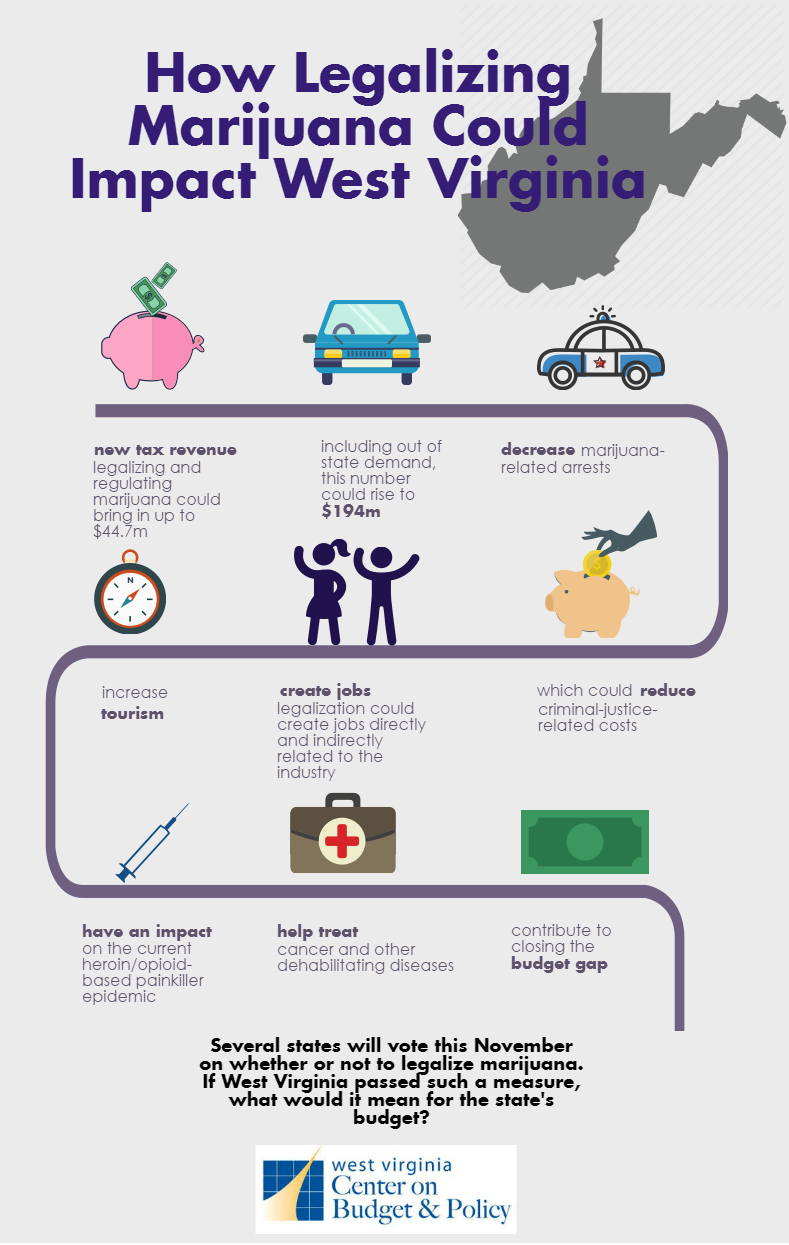 Candidate Forum – Thursday, August 25
In anticipation of the November general election, area organizations will host a non-partisan candidate forum on Thursday, August 25 at 6:00 PM at the WV Culture Center. The event will be moderated by Ashton Marra of West Virginia Public Broadcasting and is free and open to the public.
All candidates running for House of Delegates in Districts 35 and 36 and Senate Districts 8 and 17 have been invited. Confirmed to date are:
* Chris Walters – Senate District 8
* Glenn Jeffries – Senate District 8
* Corey Palumbo – Senate District 17
* Thornton Cooper – House of Delegates District 35
* Benjamin Adams – House of Delegates District 35
* Chelsea Walker-Gaskins – House of Delegates District 35
* Nancy Guthrie – House of Delegates District 36
* Andrew Robinson – House of Delegates District 36
* Larry Rowe – House of Delegates District 36
This forum is hosted by: ACLU of West Virginia, West Virginia Citizen Action Group, WV FREE, Fairness West Virginia, WV Center for Budget and Policy, Planned Parenthood South Atlantic, West Virginia Coalition Against Domestic Violence, Compassion WV, Our Children Our Future, Inspire WV, and the NAACP of Charleston.
For more information, please contact Julie Warden at 304.342.9188 or Julie@wvfree.org.
Higher Education Cuts Jeopardize Students' and States' Economic Future
Public colleges and universities have experienced major cuts in state funding since the Great Recession hit – something West Virginia lawmakers should consider as they grapple with difficult budget decisions in coming months.
Funding cuts have often been accompanied by tuition hikes and cuts in campus staff and programs that may reduce the quality of education for students. Per student funding at West Virginia's public colleges and universities is 24% below 2008 levels which has lead to an sharp increase in tuition.
For more information, read Funding Down, Tuition Up, released by the Center on Budget and Policy Priorities this week.

New Report Shows Racial Disparities Harming Young Children in West Virginia
This week West Virginia Kids Count released its report, Real Talk on Race, which found that in eight key measures, African-American kids fair more poorly than their white counterparts. For instance, nearly six in ten (57%) of African-American kids under five live in poverty, while about one in four (27%) white children under five is poor.
WV Kids Count's "Race2Great" project is a five-year effort to implement four key policies that could make West Virginia a top 20 place to be a kid in the next 10 years. They include a West Virginia Earned Income Tax Credit for working families; high-quality pre-school for all three-year-olds; an additional increase in the tobacco tax to reduce pregnancy smoking and low birth-weight babies; and statewide implementation of the state's health and sex education curriculum to reduce teen pregnancies.
Lunch and Learn About the Benefits of a Soda Tax This Wednesday, August 17
How could a soda tax improve our physical and fiscal health in West Virginia?
Numerous studies have linked the excessive consumption of soda to the nation's epidemic of obesity, diabetes and other diseases. A soda tax could reduce consumption and positively impact public health. It would bring new revenues to West Virginia to fund health promotion efforts, public health insurance programs or other programs. West Virginia's existing soda tax is seen as too small to curb consumption and its revenue is not earmarked for public health insurance programs.
Join the discussion this Wednesday, August 17 from 11:30 AM – 1:00 PM at the WV Covenant House. Bring your own lunch and healthy beverage!
Lessons from Other Public Water Fights
The movement for a public water system in the Kanawha Valley is growing due to frustration with WV American Water's high rates, frequent main breaks and poor service. Save the date for a public forum on what it could look like to create a public water system for the Kanawha Valley.
In 2013, Florida residents took public control of a failing private water system owned by Aqua Florida. Join us to learn more about how this happened and what we can do to create a public water system that is transparent, accountable and fair.
Thursday, September 22nd, 7:00-8:30 PM
University of Charleston Appalachian Room (in the Geary Student Union)
RSVP: www.ourwaterwv.org/events 
Community Development Investments: Foundations for Growth
Please join the Federal Reserve Bank of Cleveland and the Federal Home Loan Bank of Pittsburgh for a symposium on community development investments. This event will feature experts and practitioners who will discuss ways to build organizational capacity and expand opportunities to secure community development finance and bank financing. They will also provide examples of successful community development projects.
This program is designed for nonprofit and affordable housing providers, social service agencies, state and local municipal officials, foundations and financial institutions.
September 14, 2016, 10:15 AM – 2:45 PM, lunch provided. Registration opens at 9:45 AM.
Location: Troy Theater, Swint Hall, Wheeling Jesuit University, 316 Washington Ave, Wheeling, WV.
Register here. For questions, please contact Joseph Ott at (412) 261-7947.

Join the West Virginians for Affordable Health Care Team
West Virginians for Affordable Health Care is seeking a highly motivated and detail-oriented Health Policy Coordinator to support West Virginians for Affordable Health Care's ongoing advocacy efforts to improve West Virginia's health, and education policies. The Health Policy Coordinator is responsible for public education, outreach and advocacy on the Affordable Care Act, Medicaid, the Children's Health Insurance Program and other public policies that impact access, quality and affordability of health care in West Virginia. This position will be located in Charleston, WV.
Attributes: possess a strong work ethic, pride in work, the skills and confidence to take initiative, accept direction and work cooperatively.
Be an energetic "people" person who gets along well with all kinds of people, handle and prioritize multiple responsibilities; a self-starter and finisher.
Excellent organizational, writing and social skills.
Qualifications: Law degree, PhD, or Master's Degree in public health, social work, public administration or other relevant field desired. Bachelor's degree required.
Computer and social media literate. Working knowledge of MS Word, PowerPoint and Excel.
Experience in writing grants.
To apply or get more information, contact Terri Giles.
Happy Friday from the WVCBP Family!
Lucy Boettner, Liam O'Leary, Maddie O'Leary and Sid Boettner – August 9, 2016