The West Virginia Senate votes today on a bill to drug test welfare recipients. SB 6 would create a three-year pilot project to drug test TANF (Temporary Assistance for Needy Families). Last year, a similar  bill stalled in the Senate Finance Committee, never making it to the floor.
The bill's sponsor, Senator Ryan Ferns, describes the bill as a way to "…assist individuals who need help and get them help," and, while West Virginia does face a substance abuse problem, there is no evidence that targeting the state's poorest with expensive and unnecessary procedures will help solve it.
SB 6 would require drug testing of applicants for TANF for whom WV DHHR employees have determined there is a "reasonable suspicion" of substance abuse. In December 2015, there were 7,715 TANF (also known as WV Works) cases in the state. Of those about 2,882 were adult cases, while 4,833 were child-only cases.
The fiscal note for the bill shows estimated costs of $50,000 in the first year, and $22.000/year after implementation. This only includes the costs of the drug tests themselves, which the bill requires DHHR to pay for, at an estimated cost of $56.50 per test.
While the bill requires applicants who fail a drug test to enter enter rehabilitative and workforce training programs in order to keep their benefits, it does not pay for treatment. Applicants who fail a drug test would be required to pay for treatment on their own to keep their benefits. The fiscal note for last year's version of the bill included the estimated costs of treatment, which were $4,600 for a six-week outpatient drug treatment program. In comparison, the average monthly TANF benefit in West Virginia is $340 per household, making paying for substance abuse treatment prohibitively expensive for most TANF recipients.
While the fiscal note for West Virginia's proposal is small, the experience of the other states with drug testing programs shows that the programs can become very costly to run, with no active program generating any savings for the state.
These programs have also failed at identifying substance abuse among their TANF populations. Reports from  Arizona, Florida, Missouri, Utah, Oklahoma, Kansas, and Tennessee all show that their drug testing programs have all failed at identifying any significant number of substance abusers.
Research has shown that the percentage of welfare recipients using drugs is relatively small and consistent with those not receiving welfare. And the experience of basically every state that has tried drug testing TANF recipients has shown that it fails at identifying any significant number of substance abusers. So how are we helping those who need help, as Senator Ferns puts it, by drug testing TANF recipients? The answer is we're not helping anyone.
Proposals like SB 6 are based on stereotypes about prevalence of substance abuse among recipients— not evidence. The fact is that drug testing welfare recipients is a flawed and inefficient way at identifying people who need treatment. No study has shown that denying assistance facilitates substance abuse treatment, and requiring someone who does need help to pay up to $4,600 in order to keep their $340/month in benefits creates only additional barriers to treatment. 
Investing in substance abuse treatment is an efficient use of taxpayer dollars, but expensive and unnecessary policies that are based more on stereotype and punishing the poor than on facts and evidence are not. If West Virginia wants to tackle its substance abuse problem, we need to look at what works.
A  new report from the Center on Budget and Policy Priorities analyzes data about which businesses actually create jobs and where they create them. The conclusions from the analysis contain useful information for states, like West Virginia, looking to create jobs and grow their economy. 
While West Virginia recently underwent a significant tax reform, and is looking to do the same again, this failed to significantly create any new jobs in the state. But, as this new report shows, that shouldn't have been surprising. While tax cuts and other tax incentives like those enacted in West Virginia are used to lure businesses from other states, the report finds that the vast majority of jobs are created by businesses that start up or are already present in a state. From 1995 to 2013, about 87 percent of private-sector job creation in a typical state was "home grown," coming from startups, the expansion of employment at existing establishments, and the creation of new in-state locations by businesses already headquartered in the state. In contrast, jobs that move into one state from another typically represent only 1 to 4 percent of total job creation each year.
The report also found that start-ups and young companies are responsible for most of the job creation when the economy is healthy. This means that economic development strategies that focus on tax cuts and tax incentives are likely to fail. Tax cuts are poorly suited to helping startups and other rapidly growing firms, in part because these businesses often have little income in their early years, after spending heavily on new equipment, product development, and marketing.
Instead of creating jobs, tax cuts end up hurting state investments in education and other services that entrepreneurs need. In a survey highlighted in the report, the most commonly cited reason among entrepreneurs for starting their companies where they did was that it was where they lived at the time, with 31% of entrepreneurs citing access to talent as a factor determining where they launch their business. In contrast, only 5% of entrepreneurs cited low tax rates as a factor in deciding where to launch their company.
All of this suggests that West Virginia should look beyond doubling down on the failed tax cuts of the past as an economic development strategy, and instead invest in schools and colleges, improving workers' skills, and maintaining communities that are attractive to residents who want to start a business. Successful entrepreneurs report these factors were key to where they founded their companies. More tax cuts and subsidies will only waste state resources that would be better utilized building a skilled workforce and improving the quality of life for local residents, investments that support real economic progress.
"Right to Work" and Repeal of Prevailing Wage Both Pass Full Legislature
Yesterday, after five hours of debate, the so-called "Right to Work" legislation passed the full House of Delegates with a 54-46 vote. The bill is now in the hands of Governor Tomblin.
Also passed yesterday was a bill to repeal the state's prevailing wage. This bill also heads to the governor's desk. He is expected to veto both bills.
In a statement released by his office yesterday, Governor Tomblin said, "I will veto the (Right to Work) legislation passed today, which received bipartisan opposition but only partisan support."
While both bills are touted as a way to create jobs, there is no data to support this claim. They both, however, are expected to lower wages in West Virginia. And so-called "Right to Work" has weakened unions in other states where it has been enacted.
Neither measure tackles the huge problem of increasing income inequality in West Virginia (see below from the Economic Policy Institute) with more and more of the share of income going to the top 1% while the wages of working families are stagnant.
Here's more in Ted's blog post.

Prevailing wage laws help ensure that government-funded construction projects are done with highly skilled workers from the community, increasing productivity and strengthening the economy with good-paying local jobs. On Tuesday, Sean appeared on West Virginia Public Broadcasting discussing why repealing the state's prevailing wage is bad policy.
Job Creation – Not Tax Cuts
Supporting homegrown startups and young, fast-growing in-state companies is a more effective strategy for states to create jobs and build a strong economy than cutting taxes for small businesses across the board and trying to lure business from other states.
The findings are striking: new data and research confirm that supporting homegrown startups and young, fast-growing in-state companies is likely to be a much more effective strategy for states to create jobs and build a strong economy than the across-the-board tax cuts and attempts to lure businesses from elsewhere being pursued today.
Read more in a report out this week from the Center on Budget and Policy Priorities.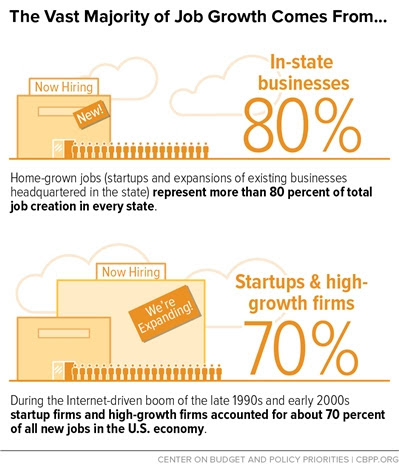 West Virginia EITC Would Help Thousands of Families
A West Virginia Earned Income Tax Credit (EITC) would help strengthen local businesses and economies because families struggling to get by tend to spend everything they earn on necessities and at local stores.
And because the additional income helps parents better meet their needs, young children in low-income families getting an EITC tend to do better and go farther in school, and as adults earn more money.
Read more in Seth's op-ed in the Charleston Gazette-Mail.
What can you do? Ask the House Finance Committee to consider legislation to enact a WV EITC with one quick action.

RECLAIM Act Would Provide Millions for Struggling West Virginia Communities
This week Congressman Evan Jenkins cosponsored a bill to create the RECLAIM Act (Revitalizing the Economy of Coal Communities by Leveraging Local Activities and Investing More). The legislation would release $1 billion in funding from the Abandoned Mine Reclamation Fund over the next five years to revitalize communities impacted by the decline of the region's coal industry.
The RECLAIM Act comes on the heels of 27 resolutions that have been passed by local governments in West Virginia, Kentucky, Virginia, and Tennessee calling for Congress to take action to help aid coalfield communities. In 2015, the County Commissions of Fayette, Kanawha, and Raleigh, Lincoln, and Wyoming passed resolutions in West Virginia.
Organizing Training Available Next Month
The Our Children Our Future campaign will host a two-day organizing training in March. The curriculum will draw from some of the best sessions and trainings from around the country and across organizations–on topics including community organizing, leadership, policy advocacy, team-building, power, etc.
March 11-12, 2016 at Camp Virgil Tate
Only $50 Registration Fee
Spots are limited; some scholarships available
More information here.
The West Virginia Legislature is poised to enact a so-called right-to-work (RTW) law this week. The House of Delegates is taking up an amended version of the "WV Workplace Freedom Act" this afternoon. The law would prohibit unions and employers from negotiating a contract that requires employees who benefit from union representation to pay for their fair share toward those costs.
So far, 25 states have enacted RTW laws, predominantly in the South and Southwest. While right-to-work laws have nothing to do with guaranteeing jobs for workers, some in the business community view it as a strategy for attracting new businesses to locate in West Virginia, despite its downside risks of lowering wages and hurting unions that helped build the middle class in our country.
Here are five important things you need to know:
 1. It's about lowering wages and eroding workplace protections. As an economic development tool, the professed aim of RTW is to reduce the power of unions by depriving them of resources (dues), which ultimately weakens the union and strengthens the employers' hand in bargaining for lower pay and benefits. By decreasing the likelihood that businesses will have to negotiate with their workers, this will lower labor costs, reduce the cost of doing business, and will supposedly incentivize out-of-state manufacturers and other businesses to locate in West Virginia. If RTW didn't lower wages and weaken workplace protections across the board, there would be no incentive for companies to move to West Virginia. This, in a nutshell, is the hope of RTW supporters such as the West Virginia Chamber of Commerce.
 2. Academic research is unanimous that RTW reduces unionization. While there is no strong evidence that RTW laws help or harm a state's economy, there is a broad academic consensus that it weakens labor unions. If this happens, it could mean even worse economic and social outcomes in the state. This is because unionization is strongly associated with higher economic mobility, less income inequality, higher wages, safer workers conditions, better benefits and larger voter turnout.
 3. The WVU report on RTW is fundamentally flawed. While a recent study by John Deskins at West Virginia University concluded that RTW would boost jobs in West Virginia, the study is fraught with basic design problems. For example, the WVU study misidentifies that Texas and Utah adopted RTW in the 1990s, when both states adopted RTW before 1960. The WVU study also failed to adopt a standard academic practice that accounts for unobserved differences between states, such as the advent of air-conditioning in the South, access to oversees markets, and other important state characteristics. When researchers at the Economic Policy Institute accounted for these problems and replicated WVU's findings, they found no relationship between RTW status and employment growth. Tim Bartik, an economist with the Upjohn Institute and one of the country's leading economic development experts, recently reviewed the WVU study and concluded that it "does not provide any convincing evidence that a state that adopts RTW laws will, as a result, experience faster job growth." The flaws with the WVU study highlight why state policymakers should not rely on its conclusions to adopt RTW.
 4. RTW is not about "workplace freedom." While RTW proponents define 'workplace freedom" as letting workers opt out of paying a representation fee to pay for the benefits they are receiving under any negotiated union contract, most would define workplace freedom as being treated with dignity and respect on the job. That means getting paid an honest wage for an honest day's work, and having access to benefits such as paid sick days, paid family leave, health care, and a retirement plan. The only freedom workers would receive if RTW were enacted is the ability to get something for nothing.
 5. Low workforce skills are the central reason for West Virginia's economic woes, not lack of RTW. A recent in-depth study by the Center for Business and Economic Research at the University of Kentucky that explored why the state is so poor found that the shortage of skilled workers – not RTW – was the central reason for the state's relative poor economic performance. Since West Virginia faces many of the same social and economic problems as Kentucky, policymakers would be well advised to promote polices that improve the skills of the state's workforce instead of RTW that could reduce workforce training.
While we are all worried about our economic future and want to build a strong economy in our state with good-paying jobs, enacting right to work is not going to get us there. Instead it may hurt working families by redistributing income from workers to employers and from middle-class taxpayers to the wealthy.  I hope the legislature in West Virginia will see that we can't build West Virginia by tearing down working families and unions. Instead we need  to focus on the policies that we know work, such investing in early childhood education, research and development, higher education, workforce training, and effective ways to help more people get out of poverty. 
Beckley Register-Herald – As officials in Charleston grapple with how to tackle West Virginia's $354 million budget shortfall, due largely to less than expected severance tax collections, states facing similar financial gaps are using other ways to shore up their finances. Read
Nearly one out of every seven dollars going into West Virginia's coffers comes from the state's energy sector. With the coal industry and the oil and natural gas sector struggling, West Virginia had a historic low in its total tax collections last year.
Coal production dropped by a seventh and natural gas prices were at historic lows, the Energy Information Agency reported.
In October, Gov. Earl Ray Tomblin slashed 4 percent from the budget of state agencies, cut staff Christmas parties and cut 1 percent of state funding to local schools.