Congress Must Save Tax Credits that Help Veteran and Military Families
Congress has a chance this year to save key provisions of pro-work tax credits that help 15,000 veteran and military families make ends meet. This Fourth of July, let's honor our veterans and men and women in uniform by making sure these tax credits continue to be there for them and their children.
Join the WVCBP Team!
The WVCBP has an immediate opening for a policy outreach coordinator. This key staff person will build our capacity through partnerships and the development of new relationships; help educate advocates, the media, and the public on policy proposals and issues; help mobilize communities around important public policy issues, produce opinion pieces, presentations, and other materials; and provide advocates, the media, policymakers and the public with timely, accessible, and credible research and analysis on issues impacting their communities.
Please share this complete job description with anyone who you think is interested and qualified for this challenging and rewarding position with full benefits and a competitive salary.

Yes, We Should Tax Coal Like Natural Gas
This week the Select Committee on Tax Reform held the latest in its series of meetings, this time with a focus on local property taxation. The discussion turned to the difference in assessment of coal property and natural gas property. The current system gives coal an advantage that, if eliminated, would provide nearly $200 million in local property tax revenue to fund the state's schools and other important programs. Here's more in Ted's blog post.
New Overtime Rules Proposed
Good news for workers this week with the Obama Administration announcing an update to the outdated overtime rule raising the annual salary threshold from $23,660 to $50,440. In 1975 the rule applied to over 60% of workers but, due to inflation, that number is now just 8%. Modernizing this rule will affect 20,000 West Virginia workers. Here's more in Sean's blog post.
Great WVPBS Series: Front Porch
Former WVCBP board member Rick Wilson continues to knock it out of the park in the WV Public Broadcasting series "Front Porch." Here's this week's edition which covers the new Republican legislature's work to repeal the state's prevailing wage.
Registration Open for Policy Workshops
Get ready for the best Policy Workshops ever. These day-long events are your opportunity to: 
get top-notch leadership and policy training, 
meet other top community leaders and legislators from both parties, 
and get a chance to shape the hot button issues that will define the next legislative session. 
Spots are limited. Check out the information below about the issues being discussed at each workshop, and follow the links to REGISTER NOW!
Eastern Regional Workshop in Davis, WV, July 22nd
Issue teams: Expungement, Jobs for Coal Miners, Affordable Housing, Traumatic Brain Injury, Move to Improve (Physical Activity in Schools!)
Southern Regional Workshop in Beckley, WV, August 3rd
Issue teams: Youth Mental Health, College Debt, Juvenile Justice, High Speed Internet, Foster Youth, Tax Reform
Central Regional Workshop in Huntington, WV, August 10th
Issue teams: Afterschool Education, Early Childhood Education, Opposing Right to Work, Shared-Use Agreements, Driver's Licenses, Participatory Budgeting
Northern Regional Workshop in Weirton, WV, August 17th
Issue teams: APRN Nursing Reform; Foster Care Reform, State Earned Income Tax Credit, Oral Health, Child and Family Hunger
Registration will close one week out from each event. The Policy Workshops are designed for people who really want to join one of the issue teams above, OR for people who want to come and learn more broadly about leadership, communications, and policy development.
On Monday, the Joint Select Committee on Taxation met again to discuss revising our state's tax system. The focus of this meeting was on local property taxation, especially as it impacts the coal and natural gas industries. During the meeting, John Mairs, a lawyer for the coal industry, stated that he "would love to have their taxes assessed like the oil and gas industry." Presumably, Mairs believes that the coal industry would pay less in property taxes if its property were assessed the same way as natural gas and oil property. However, this is not the case. The natural gas industry has a much higher effective property tax rate than the coal industry.
As Sean and I highlighted in this report, the effective property tax rate on the value of natural gas in West Virginia is about 3 percent compared to just about 1 percent for coal. This is largely because producing natural gas property in West Virginia is valued differently than active coal property. Unlike coal, active oil and gas property is appraised and assessed on both the royalty land-owner and the producer (or leaseholder). Currently, active coal property  being mined is taxed based only upon the royalty rate value of the property, which is typically 5.5 percent of the value, and not the "chattel real interest" or the leaseholders (coal producers) working interest value. This means that a large portion – 94.5 percent, after reducing for operating expenses  – of the value of active coal property is not being assessed and taxed. The result is that coal companies pay much less in property taxes than natural gas and oil companies even though they are paying more on their machinery and equipment.
In 2008, natural gas paid $58.3 million in property taxes based on a production value of about $2 billion – an effective rate of 2.97 percent. Meanwhile, coal paid $90.8 million based on a production value of $9.7 billion or just 0.94 percent. If coal paid the same effective property tax rate as natural gas, it would have paid approximately $288 million or $197 million more in local property taxes. So, yes, taxing coal property the same as natural gas property would be great, as it would be provide additional resources to maintain our highways, and could pay for other important programs that have seen their funding cut over the past several years.
Yesterday, the Obama administration's Department of Labor proposed a new rule that will raise the overtime salary threshold from $23,660 to $50,440 by 2016, and index it for the future. This change will extend overtime protection to about 5 million workers in its first year, including 20,000 in West Virginia. 
Under the Fair Labor Standards Act, workers eligible for overtime must be paid "time-and-a-half" or 1.5 times their regular pay rate for each hour of work per week over 40 hours. Currently, hourly workers in most service and blue-collar jobs are guaranteed the right to overtime pay.
For salaried workers, the right to overtime is determined by their pay and nature of work. Currently, salaried workers who earn below $455/week ($23,660/year) are eligible for overtime, but workers who earn more than $455/week can be exempted from overtime if their occupations are considered professional, administrative, or executive.
The current salary threshold has not kept pace with inflation or the changing economy. In 1975, the overtime salary threshold covered about 62 percent of all salaried workers, compared to just 8% today. Had the threshold kept pace with inflation since 1975, it would be about $52,000 today. The proposed threshold largely restores its lost value.
This calculator allows workers to see how much extra they can earn each week under the new rule.
The Supreme Court upheld a key provision of the Affordable Care Act today, protecting subsidies that make health insurance affordable for millions of Americans, and tens of thousands of West Virginians.
In a 6-3 ruling, the Court found that premium subsidies should be available both in states that have set up their own health insurance exchanges, and in states that use the federal exchange, like West Virginia.
The plaintiffs in King vs Burwell case contended that the under the law, premium subsidies should only be available in states with their own exchanges, not to those enrolled through the federal exchange. This argument was supported by a number of conservative politicians, including West Virginia's Attorney General Patrick Morrisey.
However, the Court rejected that argument, making subsidies available in all states, marking the second time the Supreme Court has upheld a key Affordable Care Act Provision.
West Virginia is one of 36 states using the federal exchange rather than setting up its own exchange. Had the Supreme Court's ruling gone the other way, West Virginians in the federal exchange would have lost their premium subsidies, in some cases tripling the cost of health insurance.
The are approximately 33,000 people enrolled in health insurance plans through the exchange in West Virginia, with about 25,000 qualified for premium subsidies. In 2014, those with subsidized exchange plans in West Virginia saw their monthly premiums reduced from $415 to just $113, meaning that 78% of premium costs are covered by subsidies. At that rate, in 2016 the subsidies could save low and moderate income West Virginians over $185 million.
Since the enactment of the Affordable Care Act, West Virginia's uninsured rate has plummeted from 17% to 6.6%, almost entirely due to the law. With the Supreme Court's ruling today, that progress in insuring West Virginia's population has been protected and the destabilization of the individual market has been prevented, and West Virginia remains one of the biggest Affordable Care Act success stories.
This Father's Day: Helping Working Fathers
Two working-family tax credits, the Earned Income Tax Credit (EITC) and Child Tax Credit (CTC), are powerful tools for reducing children's poverty and helping families put food on the table, while boosting the local economy.
About 13 million fathers in low- and moderate-income working families received either the EITC or the low-income portion of the CTC in 2012. About 72,000 of those fathers live right here in West Virginia.
It's time to call on Congress to make permanent key provisions of the EITC and Child Tax Credit (CTC) instead of pushing these working dads into poverty.

Reducing Greenhouse Gases in West Virginia
This week Downstream Strategies and the Center for Energy and Sustainable Development at the WVU College of Law released "The Clean Power Plan and West Virginia: Compliance Options and New Economic Opportunities," a new report that describes strategies for West Virginia to meet the requirements of the proposed EPA Clean Power Plan rule.
The goal of the federal Clean Power Plan is to reduce greenhouse gas emissions by 30 percent by 2030. The report lays out ways in which West Virginia can meet that goal. Here's more from West Virginia Public Broadcasting.
The Cost of Unhealthy Lifestyles
Earlier this month, Ted presented at the annual Try This conference in Buckhannon, WV. The topic of his presentation was Healthy Lifestyles and Economic Development.
His presentation focused on the benefits of a healthy population including lower health care costs and greater economic productivity.
In 2009, the cost of obesity alone cost West Virginia $1.2 billion.
More Job Opportunities
Here are more job openings with the The Our Children, Our Future Campaign. For more, please see last week's Budget Beat.
1. Looking for Try This VISTAs! Try This is an exciting movement to help knock WV off the top of the worst health lists (trythiswv.com). VISTAs are full-time, 35-hour/week, federal positions that receive a $449 stipend every two weeks plus some help with student loans. If you are interested, send a cover letter and resume to Stephen Smith (with VISTA in the subject heading) that clearly states your reason for wanting the position, your desired start date (June or August), the particular skills and experiences you want to bring to the organization, and what area(s) of the project you are most interested in working on, and why. Go here for more information.
2. Become an OCOF Volunteer or Intern! Interns/volunteers must give at least 10 hours/week for at least 4 weeks (though we encourage longer commitments). We have internships in a wide range of areas – community organizing, policy issue research and support, conference and event planning, policy advocacy, on-line media and activism, fundraising, strategy, and data management. If you are interested, please send a cover letter and resume to Stephen Smith clearly stating the time you have available, your specific interest areas, and a paragraph about what your ideal internship or volunteer experience would look like.
3. Jobs at KISRA. KISRA (Kanawha Institute for Social Research and Action) has regular job postings up here: Current positions include a part-time culinary instructor.
4. Can't knock on doors? Volunteer from your own computer two-five hours/week doing data entry.Contact Alexandra with "Data Volunteer" in the subject heading if you are interested in becoming one of our treasured data entry volunteers.
Income Tax Cuts for Wealthy Unlikely To Boost West Virginia Economy
As the legislative committee charged with overhauling the state's tax system continues its regular meetings, concerns continue over what recommendations will emerge from this process.
Reducing or outright eliminating the state's personal income tax has been a regular topic of discussion before the committee. Legislators have lots of examples of how such proposals can impact a state's budget and in Part III of his blog series on the issue, Ted explains several outcomes.
In 2016, the $1.9 billion expected to be collected in personal income taxes alone in West Virginia could nearly pay for the state's public education costs. That's a lot of money to replace in the state budget and getting rid of it will likely mean deep funding cuts for schools and other important services, making West Virginia an unattractive place to live, work, and raise a family.
Here's more from the Center on Budget and Policy Priorities on how tax-cutting states have fared economically.

Supreme Court Decision Could Impact Thousands in West Virginia
Once again the fate of the Affordable Care Act is before the U.S. Supreme Court. In late June or early July, the Court is expected to rule in the King v. Burwell case. According to the Urban Institute, a ruling in favor of the plaintiff could cause 41,000 West Virginians to lose their tax credits, and 49,000 West Virginians to drop their insurance plans due to rising costs. Here's more.
Deadline for Policy Proposals to Help Fight Poverty in WV
Time is running out to submit a policy proposal for the Our Children, Our Future Campaign's annual Policy Workshops and Symposium.
Making your voice heard on an issue you think needs attention will require a submitted application and participation in at least one workshop and the symposium.
The deadline to apply is Monday, June 15!
Job Opportunities
The Our Children, Our Future Campaign has several job opening available now!
1. Full-time Try This Coordinator: Try This West Virginia is a statewide movement of West Virginians who want to help knock our state off the top of the worst health lists, community by community. This person would work with the Try This directors to help expand the movement. This is a dream job for the right person – someone who has a passion for healthy food and physical activity and a wide range of skills to help us build the Try This movement. Go here for more information.
2. Full-time, Our Children, Our Future Regional Organizer: perfect candidate will work hard to 1) bring new leaders and volunteers into our work, 2) help plan events/candidate forums/trainings in their region, and 3) lead advocacy efforts on a wide range of issues related to children and family. Pay is competitive ($32-38k, plus health benefits, generous vacation, and travel reimbursement) and position will likely cover the northern region of the state. To apply send a cover letter that gives details about why you are interested in the position and what skills/experiences you will bring to the table; 2 professional references; and a resume to Stephen Smith.
3. Our Vote, Our Future Door-to-Door Organizer. Earn ~$10/hour going door-to-door, registering and educating voters about key issues that affect children and families, and asking them to take action by making a donation or writing a letter. Hours are 2pm-10pm. Canvass is based in Charleston, but will sometimes travel. Must have experience fundraising or be willing to learn. E-mail a cover letter and resume to Alexandra Gallo.
While the last post found that state income taxes have little or no impact on interstate migration, there is also little evidence that slashing or eliminating the personal income tax is a surefire way to boost economic growth in the Mountain State. Most of the states that have followed this path recently have not experienced stronger growth, but they have seen their budget deficits grow. And this means less investment in education, infrastructure, higher education, and other important public goods that provide a foundation for a strong economy. The theory that income tax cuts for the wealthy lead to stronger economic growth is also deeply flawed and contradicted by real world experience, as we shall see.
Here are five simple reasons why we should be very skeptical about cutting income taxes on high income businesses in West Virginia:  
States without income taxes not outperforming those that have income taxes
One simple. but somewhat crude. way to gauge whether the lack of an income tax is a good predictor of economic growth is to examine the performance of states with and without an income tax. While policymakers in West Virginia have not (yet) claimed that no-income tax states are doing better than states with income taxes, high ranking officials in other states, and groups like ALEC and Americans for Prosperity, have all used this as a talking point in advocating for eliminating the state personal income tax.
According to a recent report from the Institute on Taxation and Economic Policy, states that go without personal income taxes have failed to outperform others. As the chart below illustrates, between 2002 and 2011 states without income taxes experienced slightly lower economic growth (real GSP per capita), a larger decline in household median income, and similar unemployment rates. 
States that cut incomes taxes are doing worse

Not only is there little difference in economic performance between no-income and income tax states, but a number of states that have recently cut income taxes in the hope of boosting economic growth have not performed any better as well. From 2002 to 2007, six states – Arizona, Louisiana, New Mexico, Ohio, Oklahoma, and Rhode Island — enacted significant personal income tax cuts on the premise that it would boost economic growth. Three of these states – Arizona, Ohio, and Rhode Island – have seen their share of national employment decline, while New Mexico, Oklahoma and Louisiana have enjoyed above-average employment growth mostly due to the sharp rise in oil prices during this period. 
More recently, since 2012, five states have sharply cut their personal income taxes in the hope of boosting economic growth. Of the five, only North Carolina has outperformed the nation in job and personal income growth. Despite its recent economic performance, North Carolina has made substantial budget cuts and is drastically underfunding schools, colleges and other important public services businesses need to thrive.
Kansas, which enacted the largest personal income tax cuts in recent history, has performed especially poorly. Since Kansas enacted its tax cuts (January 2013), its jobs base has grown only by 2.9% compared to the national average of 4.6% over this period (ending in April 2015) and its personal income growth was 4.3% compared to the national average of 4.6% (2012Q4 to 2014Q4).
When Kansas Governor Sam Brownback enacted these tax cuts he said this would provide a natural experiment in supply-side tax cuts and that the cuts "will be like a shot of adrenaline into the heart of the Kansas economy." The opposite has happened, along with a $400 million budget hole. West Virginia has also undergone a natural experiment in supply-side economics, cutting business taxes significantly since 2007. The results have been similar: large budget cuts along with very poor job growth. 
Reality bites when theory rules the roost
As businesses have shifted from paying the corporate income tax to paying the individual income tax (because many companies are now pass-through businesses [S corps, limited liability companies, partnerships, sole proprietors]), policymakers have argued that cutting the personal income tax will lower business costs, thereby boosting investment and job growth in the states that do so.
While standard economic theory predicts that business tax rates can impact whether a business chooses to locate in a particular state because lower taxes mean lower costs, this is only true if all other things are equal (Ceteris paribus) and there's perfect market competition. Of course, this is almost never the case because there is no such thing as a free market (it is a political construct) or perfect market competition, and states never hold "all other things equal" when they make tax changes that impact public investment.
The theory also hinges on the faulty assumption that the level of taxes are large enough to influence firm behavior or that business taxes are not passed on to customers via higher prices. In reality, business investment and location decisions revolve around a host of considerations, many of which can play a much larger role than state taxes. For example, the cost of electricity, occupancy (rent), raw materials (or inputs), transportation, and labor are usually much larger costs than state and local taxes and can have a greater impact on profit margins especially in different states. As Sean has pointed out, the variations in wages across states is much larger than the savings of any proposed tax reductions. 
The strategy of tax cuts to lower the cost of doing business is also focusing on a very small component of business costs. For example, according to COST, U.S. businesses paid a total of $648.8 billion in state and local taxes (including corporate and individual income taxes, sales and severance taxes, local property taxes, and other taxes) in 2012. According to the IRS, businesses in 2012 deducted $27.7 trillion in federal, state and local business taxes. This means, at the most, business taxes represented about 2.3% of the cost of doing business in the United States.*
If we assume that West Virginia's share of the $27.7 trillion is commensurate with the state's share of national private GDP (0.42%), this pushes the share up to 3.3% based on the COST estimate that businesses paid $3.7 billion in state and local taxes in West Virginia in 2012.
One reason West Virginia might be higher is because of its large mining sector. This means for most businesses in West Virginia state and local taxes are probably much closer to 2.3% of total business costs (and even lower lower after their federal reduction of state and local taxes). 
Put another way, if West Virginia abolished its personal income tax it would only reduce average firm cost by about 0.2% at the most.
In sum, it is entirely reasonable to argue that state and local taxes have a relatively minor impact on corporate location decisions because they constitute a small share of business costs and their potential influence is overwhelmed by interstate differences in labor, energy, transportation, and other costs of production, which account for almost 97 percent of total corporate production expenses.
Rational profit-maximizing businesses would also consider the level of public provisions (e.g. good schools, roads, etc.), the quality of life, the supply of a qualified workers, and other state and local policies. Businesses might also look to national tax policies and national economic conditions when looking to expand and make a profit. All of these other considerations throw cold water on the theoretical argument that state taxation alone will have a large impact on economic growth.
This is why it's very important to move from theoretical assumptions governing the behavior of state business growth and taxes and to focus on the empirical studies that have looked into the impact of state taxes on economic growth.
Tax cut theory at odds with academic research
A recent review of academic peer-reviewed studies by Michael Mazerov at the Center on Budget and Policy Priorities concluded that "of the 15 major studies published in academic journals since 2000 that examined the effect of state personal income tax levels on broad measures of state economic growth, 11 found no significant effects and one of the others produced internally inconsistent results." This means for every one academic study that found personal income taxes boosted state economic growth, there were about four that found no significant effects. A new and very rigorous study conducted by the Tax Policy Institute further undermines the claim that states can improve their economies by cutting personal income taxes. The study found that personal income taxes have a statistically insignificant impact on growth.
So, if anyone ever tells you that there's a consensus among economists or that "economic theory predicts" that lower state personal income taxes boost economic growth, all you have to do is look at the recent empirical academic evidence and the real-world examples that are unfolding badly across the country. 
Cuts in personal income tax usually result less public investment
While not all income tax cuts are created equal (more on that soon), states that have cut income taxes (mostly for the wealthy) across the country did not do so in a revenue neutral way. Instead, the tax cuts had the predictable consequence of creating large budget gaps that were met by smaller investments in education, higher education, and other important public goods that are vital to support private sector growth (sound familiar?).
In fiscal year 2016, West Virginia is expected to collect about $1.9 billion in personal income taxes. To put that in perspective, the personal income tax alone could nearly pay for our state's public education costs and it brings in nearly twice what the state pays in Medicaid costs. Because West Virginia must balance its budget, personal income tax cuts that fail to produce the promised economic gains almost certainly will lead to deep funding cuts for schools and other public services. This would not only hold our economy back and exacerbate income inequality, but it would make West Virginia an unattractive place to live, work, and raise a family.
Rather than bet our future on a strategy that has failed to deliver in other states, we need to be making smarter public investments that support the private sector and create an environmental for all to succeed.
____
 *Using the IRS 2012 figure of business taxes deducted of $569 billion drops this share to 2 percent.It is also important to recognize that the IRS figure includes federal taxes, not just state and local taxes.  This number also does not consider that state and local taxes can also be deducted from federal income taxes paid, which would lower the effective state tax rate. For more on this methodology, please see footnote 5 ( http://www.cbpp.org/research/vast-majority-of-large-new-mexico-corporations-are-already-subject-to-combined-reporting-in) 
How Will Tax Overhaul Affect West Virginia Counties?
As state legislators consider an overhaul of the state's tax system, some of the most concerned onlookers are local and county officials. This week some of them spoke publicly about being able to maintain services and funding for schools while facing a cut in revenue, especially when many are already having to make do with less as coal severance taxes decline. For more, here's an editorial from this week's Clarksburg Exponent Telegram and a story from West Virginia Public News Service.
One county commissioner stated that businesses seeking to create jobs in West Virginia want good schools, roads and infrastructure, and investing in these areas would be a wiser choice than more tax cuts.
And, as we've stated before, cutting business taxes in West Virginia has not created jobs:

How Family Income Affects Children's College Chances
How does parent income affect a child's chance of attending college? Check out this easy-to-use online tool to draw a graph with your prediction to see how closely you come to the correct answer.
Help Fight Poverty in WV
What issues/policies need changed in West Virginia that impact working families/children? The Our Children, Our Future Campaign is currently accepting policy proposals for its annual Policy Workshops and Symposium.
This is your chance to work on that issue you think needs attention. This year being placed on the OCOF ballot of issues requires a submitted application and participation in at least one workshop and the symposium.
Not sure about whether you want to submit a proposal but would love to work on a team? Attend the Policy Workshops to learn about the submitted policies and join a team! Policy Workshop registration information coming soon!
Join the Student Power Team
The Our Children, Our Future Campaign is pleased to announce its new Student Power Team. The Student Power Team is a project to help get more high school and college age young people involved in their communities and government. It will provide students with an opportunity to learn a vast amount of skills from leadership development to how to move a community need into public policy.
The goal is to have over 30 student chapters by next year. If you are interested in learning more or becoming a chapter contact Chris Kimes.
If you want to be part of the Student Power Team that helps guide this project throughout the year, please contact Lida Shepherd.
Mark your calendars: the first Student Power Team meeting will be June 26, 2015 in Pineville, WV at the Wyoming County SADD Powerhouse.
Reverse the Curse
This week Ted traveled to Columbus, Ohio to take part in a legislative briefing as part of the Multi-Shale Research Collaborative. His presentation, titled "Reverse the Curse", explored how states like Ohio can create permanent natural resource trust funds to ensure long-term benefits of shale drilling.
Welcome, Brooke!
This week we welcomed Brooke Bailey as our summer research associate. Brooke is a graduate student at WVU where she is pursuing her Master's in Public Administration. This summer she will work on updating the WVCBP's Guide to the State's Budget, first published in 2008, and assist staff with several other projects. Welcome!
Budget Woes Hit Higher Education/Tax Committee Meets Again
For a great connecting of the dots on how years of tax cuts are now impacting West Virginia's college students, listen to Sean's interview this week on West Virginia Public Broadcasting.
What will the legislature do to help lessen the impact of higher tuition, and the state's reduced spending per student, especially on the state's low-income families? For a recap on discussion in the week's Tax Overhaul Committee meeting, check out Sean's blog post.
Are West Virginians Moving to Florida to Avoid State Income Taxes?
One topic brought up by legislators seeking to overhaul the state's tax system is eliminating the state's personal income tax. Legislators have stated that West Virginia is losing population to no-income-tax states like Florida. A look at the numbers shows this just isn't the case and should not be used as a reason to cut one of the state's largest source of revenue. Read more in Ted's blog post.
West Virginia Steals from the Poor and Gives to the Rich
West Virginia ranks among the highest in states with tax systems that undermine the federal tax code. The federal system is progressive since it taxes higher earners at a higher level, thus reducing income inequality. Unfortunately, West Virginia's regressive state system undoes this leveling of the playing field by nearly 32%.
Help Needed: Fighting Poverty in WV
Got an idea on how to fight poverty in West Virginia? Ready to get it passed through the state legislature with the help of the Our Children, Our Future Campaign? If so, it's time to: 1) organize a team to come together around an issue, 2) form a concrete policy proposal, and 3) present that proposal to lawmakers and stakeholders at our 2015 Our Children, Our Future Policy of the People Symposium. Learn more here.
Summer Employment Opportunity
Located in the heart of Charleston, Our Vote, Our Future is a 501(c)4 non-profit that is the grassroots outreach campaign for Our Children, Our Future, WV. OVOF is part of a broad campaign to end childhood poverty state-wide and fights alongside children and families to win huge, lasting victories. In less than three years, OCOF has increased the minimum wage in West Virginia and restored hundreds of thousands of dollars to childhood advocacy programs.
Our Vote, Our Future is seeking highly motivated individuals with:
-A passion to make change
-A real commitment to being part of the solution
-Strong communication skills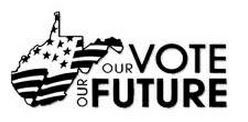 In the last post, I gave an overview of West Virginia's personal income tax and how it is an important and progressive way to fund state investments in K-12 education, higher education, and other important public structures. In this post, I want to tackle misleading information surrounding the argument to cut or abolish state personal income taxes – the great tax migration myth.
You often hear that people move to no-income-tax states like Florida to avoid paying West Virginia's personal income tax. While most of these arguments are anecdotal, if you look at interstate migration data and the academic studies for evidence of people "voting with their feet" to avoid paying state income taxes, the argument falls flat. In reality, people often move (or retire) to places like Florida because of the climate, lower housing costs (not the case in WV), better work opportunities or family reasons. 
Let's look first at the data on out-migration in West Virginia. Between 1993 and 2011, approximately 322,357 households moved into West Virginia and 328,992 moved out. This means 98 percent of those leaving West Virginia were replaced by new people arriving from other states, ranking West Virginia near the middle in net-migration among all states.
What about Florida? According to the Tax Foundation and IRS data,  approximately 22,009 people from Florida moved to West Virginia from 1993 to 2011 while 25,528  moved from West Virginia to Florida. This means for every 10 households that left West Virginia for Florida over this period, nearly nine (86.2%) were replaced by households moving into West Virginia from Florida. The fact that a substantial majority of people moving out of West Virginia to Florida were replaced by people moving in is a strong piece of evidence that Florida's lack of an income tax is not a major driver of migration between the two states.
While the Tax Foundation data give the impression that the net migration income from West Virginia to Florida over this period was -$314 million (the people who left West Virginia for Florida took $925 million with them, while the people who came to West Virginia from Florida brought $611 million with them, for a net loss of $314 million ) in "lost income" to West Virginia that's not entirely true. When most West Virginians move to Florida they don't actually take their income with them. Instead it usually stays with their employers in West Virginia and is earned by other residents already in the state or by those who move in. While some forms of income – investment income, for example – may move with the individual, this only represents a small share of total income "lost."
Even if you assume that all of the $314 million in income was lost in West Virginia, it would be a tiny fraction of total personal income taxes collected in the state over this period. For example, from 1993 to 2010 West Virginia collected about $21 billion in personal income taxes. Assuming that this income would be taxed at an effective rate of 6 percent (which is highly unlikely, see here), that means West Virginia lost about $19 million in income taxes or just 0.09% of the personal income taxes collected over this period.
Another hole in the tax migration myth is that over 70,000 more households moved from no-income-tax Florida to Georgia (which has an income tax) than moved the other way between 1993 and 2010. Also, a review of recent peer-reviewed academic studies and other reports by Michael Mazerov at the Center on Budget and Policy Priorities finds the state and local taxes are not a big factor in interstate migration decisions. Of the 15 studies reviewed by Mazerov, only 3 of them (only 1 that was peer reviewed) found that high income taxes spur out-migration.
In the end, the argument that West Virginia is losing population to Florida or other no-income-tax states because they lack an income tax doesn't hold up to the evidence and is no reason to make major cuts to the state's personal income tax. Without the important revenue from the personal income tax to provide and maintain high-quality education, public safety, higher education and other vital services, highly skilled people (and the companies that employ them) could choose to leave West Virginia  in search for a better quality of life, endangering the state's long-term economic growth.